Our Lady of the Assassins
(2001)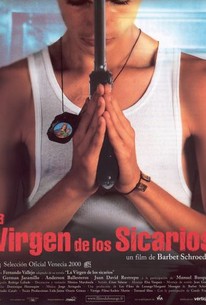 Our Lady of the Assassins Photos
Movie Info
A middle-aged man wanting to revisit the city of his birth discovers time and corruption have taken a terrible toll in this drama. Fernando (German Jaramillo) is a successful gay writer who was born in Medellín, Colombia, but has lived in Europe for the past 30 years. Feeling jaded and uninspired, Fernando decides to return to Colombia after the death of his sister, who was the last surviving member of his immediate family. Fernando remembers the Medellín of his youth as a beautiful place, but now the city is the capital of the international drug trade, and crime and urban sprawl have made it a harsh and dangerous place to live. At a party, Fernando meets Alexis (Anderson Ballesteros), a member of a teenage street gang. The two soon strike up a friendship, as Fernando tries to show Alexis what's left of the city he once knew, and Alexis teaches Fernando the grim realities of life and death on the streets. Fernando and Alexis become lovers, but despite their affection for each other, Fernando does not fully understand the dangerous and volatile nature of life in the new Medellín, which leads him into grave danger. La Virgen de los Sicarios was written for the screen by Fernando Vallejo, based on his novel. Director Barbet Schroeder shot the film on location in Medellín, using a digital video camera in order to speed up production in the notoriously dangerous city. ~ Mark Deming, Rovi
Critic Reviews for Our Lady of the Assassins
Audience Reviews for Our Lady of the Assassins
½
This was a dark and violent movie. The story of a gay writer Fernando, returning to his country after being away for so long. He met a 16 year old gay boy Alexis, who prostitute for living. The movie seemed to drag so long in some scenes and this made it feel slow and boring. The relationship between Fernando and Alexis seemed a little overreacted. Fernando was an aging writer, Alexis was young,hip and modern, so it felt unbelievable that he would have such an intimate and profound relationship. But what they won't do for money? The ending was a question mark, and I wonder if something was left out. The acting was good, very natural in the dialogue. The cinematography was beautiful with the city of Medellin for the backdrop of the movie. Not my type of movie.
Daisy Maduro
Super Reviewer
Our Lady of the Assassins Quotes
There are no approved quotes yet for this movie.