Smosh: The Movie
(2015)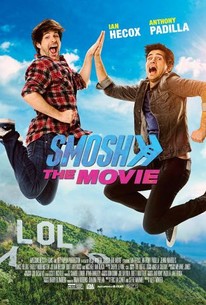 AUDIENCE SCORE
Critic Consensus: No consensus yet.
Movie Info
When an embarrassing video surfaces before their high school reunion, Ian and Anthony go inside YouTube to try and rewrite history. Journey deeper into YouTube with the unrated cut and outrageous bonus content featuring Ian and Anthony, the creators of SMOSH, on the making of their first movie, Steve Austin on being the idol, Jenna Marbles on being Jenna Marbles and Michael Ian Black on promoting a certain type of comedy. (C) Official Site
Critic Reviews for Smosh: The Movie
Audience Reviews for Smosh: The Movie
One of the worst forms of media I've ever laid my eyes upon. I couldn't even make it through 5 minutes of this cinematic apocalypse.
Stephen Skudlarek
Super Reviewer
This movie is what it is. It may not be worth writing a review for, but since it is a widely released film and is available to everyone across all platforms, I'll give it the benefit of the doubt. "Smosh: The Movie" does exactly what films like "Fred: The Movie" did, except it actually embraces what it is, creates a unique storyline and runs with it. It may just be a series of events with characters that you may or may not like, but the film is worth a few chuckles and they did a pretty decent job sending the characters in and out of internet videos. Pop Culture is what this film runs on, but it does it in a somewhat enjoyable way. As a film it works fine I guess, but as a Smosh picture, it's as good as it could possibly be. For that, I actually had some fun with it. I recommend it only to those who know the characters and are not complete sick of them. "Smash: The Movie" is fun. That's about it.