Stranded: I Have Come from a Plane That Crashed on the Mountains
(2008)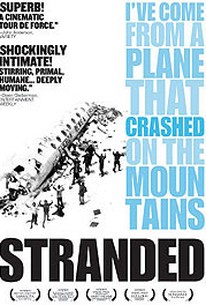 TOMATOMETER
AUDIENCE SCORE
Critic Consensus: Stranded is a thoroughly uplifting account of the well-known tragedy, with touching testimony from remaining survivors.
Stranded: I Have Come from a Plane That Crashed on the Mountains Photos
Movie Info
The events that followed the crash of Uruguayan Air Force Flight 571 in 1974 are, by now, notorious. The survivors, members of a rugby team left to fend for themselves in the Andes, ultimately resorted to cannibalism for the sake of survival, devouring the flesh of their dead companions. As a result, 16 men (of the initial 45) managed to stay alive on a frozen glacier for an incredible ten weeks. The story prompted a best-selling nonfiction tome by Piers Paul Read, a 1993 feature dramatization directed by Spielberg collaborator Frank Marshall, and this documentary, which recounts the harrowing story via firsthand accounts with those involved. Director Gonzalo Arijon shoots dramatic reenactments of the events; he intercuts this footage with clips of the press conference that greeted the men on their return, and recently recovered archival photographs.
Critic Reviews for Stranded: I Have Come from a Plane That Crashed on the Mountains
Audience Reviews for Stranded: I Have Come from a Plane That Crashed on the Mountains
The documentary "Stranded: I Have Come From a Plane That Crashed on the Mountains" recounts in gripping detail the 1972 ordeal suffered by a group of Uruguayan rugby players whose airplane crashed in the Andes. Seventy-two days later, 16 survivors came home, having endured injuries, life-threatening cold, starvation, avalanches and unspeakable emotional and physical hardship. Their remarkable story was the subject of the 1974 book "Alive," which was later turned into a fictionalized movie. But here the survivors themselves finally appear on camera to recount and in large part relive their tale, a harrowing story of courage and spiritual transcendence. Their talking-head interviews are punctuated by reenactments, a few ghostly photographs they took during their time in the mountains and footage of their return to the site of the crash two years ago, with family members in tow. Filmmaker Gonzalo Arijon treats the men's story with compassion and sensitivity, especially regarding the cannibalism to which they resorted in order to survive -- a topic of sensationalized media coverage at the time. "Stranded" combines the derring-do of classic adventure tales with far more serious issues of moral agency. And it serves as a haunting reminder to seek joy and beauty, even in the depths of despair.
C.R. Lopez
Super Reviewer
some may be put off by the subject matter but it's a remarkable and really touching film. this is the true story, as told by the survivors, of the uruguayan rugby team that crashed in the andes in 1974, lost for more than two months and forced to resort to cannibalism
Stella Dallas
Super Reviewer
Stranded: I Have Come from a Plane That Crashed on the Mountains Quotes
There are no approved quotes yet for this movie.