Tarzan and His Mate
(1934)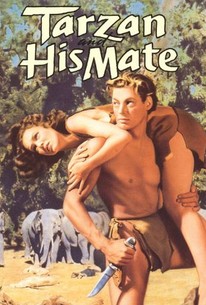 Tarzan and His Mate Videos
Tarzan and His Mate Photos
Movie Info
This film's plot is set in motion by avaricious ivory hunter Paul Cavanaugh, who arrives in the African jungle in search of the fabled Elephant's Graveyard. Accompanying Cavanaugh is Neil Hamilton the former fiance of Jane Porter. Jane entertains notions of returning to civilization, but opts to stay with Tarzan.
Critic Reviews for Tarzan and His Mate
Audience Reviews for Tarzan and His Mate
Comparing my viewing experience to Danny Peary's, reading his Cult Movies, I had a lot more trouble suspending my logic. He isn't wrong, though, to be bowled over by the eroticism in the movie. I was totally shocked by the outfits and nakedness. (Oh, THAT Hayes Code.) Totally enjoyed the sexy mates - and their thorough involvement with each other. I'd agree with Peary that part of the fascination is that it's Jane's story. I was a bit taken aback when he said that flipping Tarzan from a sophisticated educated man to a wordless, simple, feely guy made it possible for Jane to be his equal! But I see where he was going with it, and I agree they come off as equals.
Tara Vaughan
Kinda sappy but surprisingly good! Of course, the swimming scene that caused so much controversy ended up being the most beautiful and artistic scene of the whole film.
Zach Torgerson
The best of the MGM Tarzan movies, which means it is the best Tarzan movie. It is fitting that it is considered the best movie even though this is the second of the Weissmuller / O'Sullivan movies since many think that the second book in the Tarzan series, "The Return of Tarzan" is the best in the series. While many think the Tarzan movies are kid movies, this one has alot of adult content, including a skinny-dipping scene, and was one of the main movies for the Hays Code. It follows the typical Tarzan plot; follow Tarzan and Jane around for awhile, enter in bad white hunters, Tarzan gets hurt and Jane abducted, Tarzan rescues Jane with help of animals. This one is different because it is pre-code, the scenes are graphic, and the story is treated for adults and not dumbed down for kids.
Mike L
Tarzan and His Mate Quotes
There are no approved quotes yet for this movie.
Discussion Forum
Discuss Tarzan and His Mate on our Movie forum!