The Other Side of the Mirror - Bob Dylan Newport 1963-1965
(2007)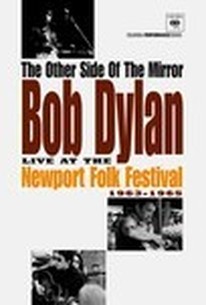 Movie Info
This documentary unearths a treasure trove of material that filmmaker Murray Lerner captured of Bob Dylan at the Newport Folk Festival over three turbulent years in the 1960s. While Lerner's original Newport documentary-the 1967 release "Festiva"l-surveyed several musicians and included only a fraction of the footage we have here, his new film "The Other Side of the Mirror" is generous with the number of performances and their duration, including many of Dylan's best known songs. In both formal nighttime concerts and informal daytime "workshops," we witness the fascinating transformations in Dylan's persona and style over three critical years, from fresh-faced folksinger to nascent rocker. Including that electric moment in 1965 when he fronted the Butterfield Blues Band with "Maggie's Farm," the film also features several powerful duets with Joan Baez as well as performances with Peter, Paul and Mary, Pete Seeger and others. Lerner imposes no voiceover on the film, letting the music speak for itself and juxtaposing footage of the audiences to mark the changing times.
Rating:
NR
Genre:
,
Directed By:
On DVD:
Runtime:
Critic Reviews for The Other Side of the Mirror - Bob Dylan Newport 1963-1965
Audience Reviews for The Other Side of the Mirror - Bob Dylan Newport 1963-1965
½
If you grew up in this the early to mid 60's you should see this, but if you grew up then and also attended the Newport Folk Festivals then you [color=black][u]MUST[/u][/color] see this. The quality of the film is remarkable. Not at all broken down in either sound or visuals.
David Fournier
Other Side of the Mirror: Bob Dylan at the Newport Folk Fest This is the man-a-changin' faster than what the paying audience cares to admit. This music documentary traces Bob from his troubadour routes straight through the moment he went electric and pissed off a great number of his self-penned "fans". It runs from '63 to '65 and features a number of early passion pieces that cover the travails of lost souls draining sorrowful in iron mines and squeals out his championing of various protest staples. He was billed as the voice of his generation; a man speaking the words the collective scrunt of his audience only wished they had the courage to blast into infinity. But history has proved that most were satisfied with hero-worshipping the man battering the folk-approved acoustic with demonic skill. As long as his act stayed true to perceived notions of what folk is many hosannas were lifted up in quiet praise. This film documents a great number of Dylan performances during that crucial period when he was slowly emerging from the safe confines of the folk music coccoon. Tracks like "Who Killed Davy Moore", and "Only A Pawn in their game" showcase his talent for making social unrest articulate and meaningful. For any Dylan fan this is a must see. It's a bible for the original mission of laying out messages of distress and injustice. However, it leads to more dangerous climes where the voice sought new versions of itself through an entirely new application. Much of the crowd booed when he played "Maggie's Farm" electric. They continued to boo through "Like A Rolling Stone." Was it truly that shocking? Was he really considered a traitor for daring to expand his musical lexicon to include other means of expression? It hardly seems possible but there it was. The crowd offering up its displeasure, a blank voice believing the illusions it collectively fed itself. It's a pure thing to witness a paradigm shift. To know what Dylan became in the face of so much unease tells us a great deal about the scene that fostered him during those early years. He is and was too much of an artist to limit himself to bleating out the same tired champion pieces for a previously sold audience. They figured they knew him and could subsequently idolize him safe in the knowledge that he would remain their pet protester forever. This film captures a period before the monumental shift in focus ever appeared to threaten the intricate structures of those who thought they understood. The songs are anthemic, poking here and there at a battery of unfortunate circumstances that afflict everyone in various degrees. Yet there was so much more to come. It's a daunting discography to even know where to start. The best part for me is when I realized that Cate Blanchett truly nailed the Dylan imprisoned by legions of fans in the backseat of his road vehicle. She must have studied this film because her performance is just so spot on. Overall, this is the music of Bob Dylan. It's a film devoted to a necessary period in the development of arguably the greatest living statesman-poet and it's necessary for that simple fact. Joan Biaz, the Mamas and the Papas, and Johnny Cash all make appearances although the Johnny Cash bit was woefully cut short. Still, any footage of the Man in Black from that era is definitely worth the price of admission. He looks too damn cool for his brief stint and certainly retains the essence of what makes Dylan so immeasurable and true. Ultimately, this film gives us an intimate portrait of a singular performer as he was establishing himself as legitimately iconic. It's intriguing to see how charged the atmosphere was when he changed gears and adopted the "evil" machinery of the hated rock 'n' roll. Nevertheless, the voice remained just as clearly defined regarding the immediacy of everyday experience. It's just that the sage won out over the mere protest singer. The topics simply shot through every regiment of consciousness to include the internal wars that continue to plague us all...
Everett Jensen
[url="http://www.rottentomatoes.com/m/bob_dylan_the_other_side_of_the_mirror/"][img]http://images.rottentomatoes.com/images/movie/coverv/08/1404508.jpg[/img][/url] Great footage of the emerging Bob Dylan. Loved the Johnny Cash segment.
M Sarki
The Other Side of the Mirror - Bob Dylan Newport 1963-1965 Quotes
There are no approved quotes yet for this movie.