The Third Man
(1949)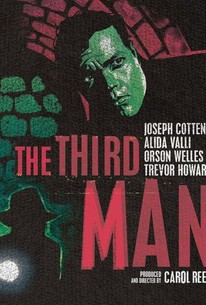 TOMATOMETER
AUDIENCE SCORE
Critic Consensus: This atmospheric thriller is one of the undisputed masterpieces of cinema, and boasts iconic performances from Joseph Cotten and Orson Welles.
Movie Info
In this Cold War spy classic, Holly Martins (Joseph Cotten), a third-rate American pulp novelist, arrives in postwar Vienna, where he has been promised a job by his old friend Harry Lime (Orson Welles). Upon his arrival, Martins discovers that Lime has been killed in a traffic accident, and that his funeral is taking place immediately. At the graveside, Martins meets outwardly affable Major Calloway (Trevor Howard) and actress Anna Schmidt (Alida Valli), who is weeping copiously. When Calloway tells Martins that the late Harry Lime was a thief and murderer, the loyal Martins is at first outraged. Gradually, he discovers not only that Calloway was right but also that the man lying in the coffin in the film's early scenes was not Harry Lime at all--and that Lime is still very much alive (he was the mysterious "third man" at the scene of the fatal accident). Thus the stage is set for the movie's famous climactic confrontation in the sewers of Vienna--and the even more famous final shot, in which Martins pays emotionally for doing "the right thing." Written by Graham Greene, The Third Man is an essential classic, made even more so by the insistent zither music of Anton Karas. The film is currently available in both an American and British release version; the American print, with an introduction by Joseph Cotten, is slightly shorter than the British version, which is narrated by director Carol Reed. Nominated for several Academy Awards, The Third Man won Best Cinematography for Robert Krasker. ~ Hal Erickson, Rovi
News & Interviews for The Third Man
Critic Reviews for The Third Man
Audience Reviews for The Third Man
Despite its distracting overuse of Dutch angle shots, this is a classic film noir crafted beautifully by Reed and Graham Greene (who worked on it by writing his excellent novella), with a fascinating villain, a fabulous post-war Vienna as its location and a perfect choice for a score.
Carlos Magalhães
Super Reviewer
The absolute in spy classics, and Carol Reed's best directorial effort, "The Third Man" remains one of the most interesting and politically driven films of all times. The performances are amazing, to say the least. Joseph Cotten is Holly Martins, an expatriate from America, who comes to war torn Austria to find his friend dead, his job gone, and an unraveling mystery all set up for him to solve. As Martins (a mystery novelist) starts looking into his old friend's (Welles) death, he discovers a man he desperately doesn't want to admit knowing, and a conspiracy that extends to murder. Martins is so subdued and dark that he instantly fits into the everyman facade and runs with it. Alida Valli as Anna Schmidt was intriguing as well, fighting for the man she loves but also being shocked into empathy. Anna Schmidt is one of the more complex and interesting characters of the entire film, and though her motivations are clear, she still steals the show from time to time. The plot is interesting, the suspense is taut, and the cinematography is out of this world amazing. A must see, a classic, and a thriller worth being thrilled about.
Spencer S.
Super Reviewer
½
If you take away Welles it wouldn't be that memorable, and even with him, the movie is still not that memorable. What do you remember about this aside from Welles lines, the photography, and the theme song? Having trouble remembering anything else? That's because most of the story dances around a "plot twist" or discovery or whatever it is that is hardly exciting, and all too predictable (Lime is alive, duh) and our main lead is a doofus, and not exactly the charming type, just a helpless goon going around from one point to another. The switch he has at the end in his confrontation with his old friend ends up feeling like a super moralistic preachy lesson about "doing the right thing". I can see why this movie has stand the test of time, but it's merits are rather shortcoming. Not bad, just not great.
Tsubaki Sanjuro
Super Reviewer
The Third Man Quotes
| | |
| --- | --- |
| Harry Lime: | In Italy for thirty years under the Borgias, they had warfare, terror, murder, bloodshed. They producedd Michaelangelo, da Vinci, and the Renaissance. In Switzerland, they had brotherly love, five hundred years of democracy and peace, and what did they produce? The cuckoo clock. |
| | |
| --- | --- |
| Anna Schmidt: | Honest, Sensible Holly martins. Holly. What a silly name! |
| | |
| --- | --- |
| Harry Lime: | Like the fella says, in Italy for 30 years under the Borgias they had warfare, terror, murder, and bloodshed, but they produced Michelangelo, Leonardo da Vinci, and the Renaissance. In Switzerland they had brotherly love - they had 500 years of democracy and peace, and what did that produce? The cuckoo clock. |
| | |
| --- | --- |
| Harry Lime: | In Switzerland, they had brotherly love, and they had 500 years of democracy and peace. And what did that produce? The cuckoo clock. |
Discussion Forum
Discuss The Third Man on our Movie forum!