The Berlin File
(2013)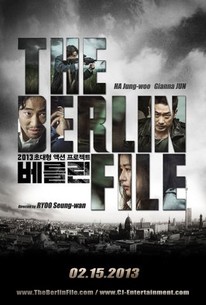 The Berlin File Photos
Movie Info
A tense illegal arms deal in a Berlin hotel suddenly descends into mayhem after a "ghost" agent named Jong-seong (HA Jung-woo) appears on the scene. Secretly watching the deal go down is embattled South Korean intelligence chief Jin-soo (HAN Suk-Kyu), the North Koreans and the US CIA, who are all left trying to decode whether the ghost is a double-agent or taking the fall for a more insidious plot. Myung-soo (RYOO Seung-bum) a young, notorious North Korean agent jumps into these treacherous waters to investigate loyalties of all involved and begins to implicate Jong-seong's wife, Jung-hee (Gianna JUN), a translator at the North Korean embassy in the German capital. Caught between his love of country and his wife, Jong-Seong must quickly prepare to make the ultimate sacrifice. (c) CJ
Rating:
NR
Genre:
, , ,
Directed By:
Written By:
In Theaters:
On DVD:
Runtime:
Studio:
Watch it now
Cast
Critic Reviews for The Berlin File
Audience Reviews for The Berlin File
A hopelessly convoluted plot drags down what could have been a much better movie. An agent's wife is framed for being a traitor, while the agent - known as the hero of his people - must figure out a way to clear her and not be labeled a traitor himself. Well acted, but the story is a mess.
Don Schick
It's a great film with the right amount of bullets flying, punches and flips, and superb acting from the cast, even this time from the white guy who found himself in a Korean movie, but it is lacking. It's got the romance, the action, the story...and there we go. The story. There's your problem. It could have been so much more straightforward, and this is where alot of films from any nation fail. It beats around the bush too much, or it just doesn't beat around the bush enough. It's a great film but it could have been so much greater and not just reliant on over the top action sequences. The ending will leave viewers staring in sad shock and wonder, "Why?!" if you were as into it as I was. (No, the main character doesn't die, but the ending was avoidable.) The verdict? Great film, but not without faults. It gets its stars in my book because I always enjoy a good old fashioned bare bones Korean action film. Always different from what I can expect here in the (ahem) good ole USA. Well, mostly. I'm not gonna totally shoot down American cinema. Not totally.
Daniel Lopez
½
Ryoo Seung-Wan delvers once again with insane fight scenes and full contact/non wire choreography, only to be hindered by a hard to follow excess of characters whose names sound alike.
Jason Kraynek
Discussion Forum
Discuss The Berlin File on our Movie forum!
News & Features