The Grandmother
(1970)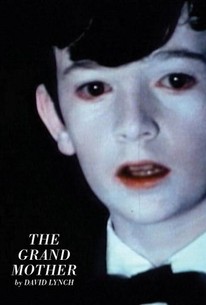 AUDIENCE SCORE
Critic Consensus: No consensus yet.
Movie Info
A half-hour experimental film from early in director David Lynch's career, The Grandmother anticipates his later Eraserhead in its depiction of family life as a surrealistic nightmare. The film begins with the appearance of the mother and father, who sprout from the ground-like strange plants and speak only in dog-like animal sounds. They are soon joined by another sprout, a pale, silent young boy dressed in a tuxedo. The scene moves to the family home, where the gruff, boorish parents intimidate and abuse the boy, cruelly punishing him for his chronic bed-wetting. Eventually, the boy escapes to an upstairs room where he dumps dirt on a bed and plants a large seed. This seed grows into a monstrous plant, which gives birth to an older woman, the grandmother. She and the boy form a loving bond, protecting him from the harshness of his parents. However, when the grandmother falls ill, the boy's world threatens to collapse. Lynch mingles live-action footage with animated interludes and replaces traditional dialogue with an unsettling soundtrack. The film is less concerned with narrative than with using its horrific and sometimes beautiful imagery to evoke the intense emotions of a tormented child.
Critic Reviews for The Grandmother
All Critics (1) | Fresh (1) | Rotten (0)
A series of images giving form to our fears about ourselves. It is one thing to feel threatened from the outside, quite another to feel life has dealt you tortures you didn't ask for.
Audience Reviews for The Grandmother
This has to be one of the disturbing Movies I have ever seen.
Disturbing and artistic. I was a bit grossed-out, but the style was interesting.
Lafe Fredbjornson
Super Reviewer
A short film by David Lynch made with grant money from the American Film Institute. It's obvious, even at this early stage, that the seeds of genius are taking root. In hindsight, this has Eraserhead written all over it.
Randy Tippy
Super Reviewer
The Grandmother Quotes
There are no approved quotes yet for this movie.