The Rabbi's Cat
(2012)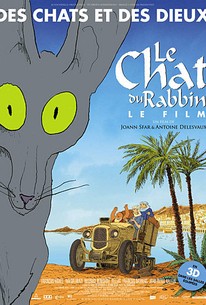 Movie Info
Based on the best-selling graphic novel by Joann Sfar, The Rabbi's Cat tells the story of a rabbi and his talking cat - a sharp-tongued feline philosopher brimming with scathing humor and a less than pure love for the rabbi's voluptuous teenage daughter. Algeria in the 1930s is an intersection of Jewish, Arab and French culture. A cat belonging to a widowed rabbi and his beautiful daughter, Zlabya, eats the family parrot and miraculously gains the ability to speak. Along with the power of speech comes unparalleled sardonic wit, and the cat - and filmmaker Sfar - spare no group or individual as they skewer faith, tradition and authority in a provocative exploration of (among other things) God, lust, death, phrenology, religious intolerance, interspecies love, and the search for truth. Rich with the colors, textures, flavors and music of Mediterranean Africa, the film embarks on a cross continent adventure from the tiled terraces, fountains, quays and cafes of colonial Algiers to Maghrebi tent camps, dusty trading outposts, and deep blue Saharan nights in search of a lost Ethiopian city. (c) GKids
News & Interviews for The Rabbi's Cat
Critic Reviews for The Rabbi's Cat
Audience Reviews for The Rabbi's Cat
It is a good thing that the rabbi's cat develops the power of speech when he does, as he soon has to defend himself from charges of having eaten the family bird. But to Zlabya, the rabbi's daughter, the cat is even more adorable now. Not so much to the rabbi, as the cat, being able to count also and realizing he is old enough, begins to pester the rabbi to have his very own Bar Mitzvah. However, the rabbi soon has bigger problems to worry about like having to pass a French test in order to be recertified which the cat promises to help with. Considering that talking animals have been around as long as there have been sound movies, it does seem more than a little strange that it has taken until very recently with "The Rabbi's Cat" to fully explore what that would mean in the real world, especially in this timeless Algeria where religions intersect and co-exist mostly peacefully.(If I had to guess, I would have to say this might be the 30's with the 1925 Citroen playing a part, and after the Russian Revolution but no mention of the Holocaust.) But that's not all as this very entertaining film makes great use of hand drawn animation in a variety of styles to detail its world, aided by a very cool soundtrack.
½
The adventures of a talking cat owned by an Algerian rabbi, who innocently blasphemes, wants to be bar mitzvahed, and tags along on a quest to find the black Jews of Africa. Unique, witty, and brilliant at times, but patchy; the story, adapted from a series of graphic novels, loses coherence as it tries to fit too many plotlines into 90 minutes. Your kid won't be interested in this unless he or she is a student of the Torah.
The Rabbi's Cat Quotes
There are no approved quotes yet for this movie.