The Stool Pigeon (Sin yan)
(2010)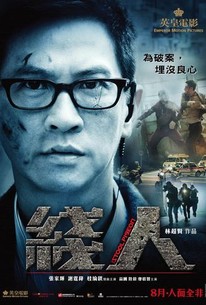 AUDIENCE SCORE
Critic Consensus: No consensus yet.
The Stool Pigeon (Sin yan) Photos
Movie Info
Police Detective Don Lee (Nick Leung) makes a bad call, causing a close informant to be injured. A year later, he must locate a new man to go undercover inside a jewel-theft ring. Ghost, Jr. (Nicholas Tse) doesn't want to do it, but Lee can offer deals and apply pressure that makes it hard to say no. Lee makes decisions based on the progress of his case, but not always at the benefit of his informant. Ghost must play a role, but can't decline the chance to do what's right.
Critic Reviews for The Stool Pigeon (Sin yan)
Audience Reviews for The Stool Pigeon (Sin yan)
½
While watching this again, i realised its not as good. Like when its in the drama its exceeptional, but the characters are too dark and pretty much everyone who gets harmend in film almost deserves it and when its in the action...well i cant even call it action, just violence thats rough, brutal and harsh and dosent deliver a great deal that you would hope or want, it dosent work as well as Donnie Brasco or is as powerful as Infernal Affairs. Almost o waste of time if it wasnt for some of the performances and the craft from its director.
Surprisingly good movie, granted it probably could've been much better. But I wasn't really expecting much from this movie and I was pleasantly surprised with what was, mostly, a character driven affair. Granted, it's not like this is the epitome of character development, but all the subplots did an admirable job of carrying most of the load, and Nick Cheung's performance which, in certain scenes, was really strong. The problem is, these subplots just do the bare minimum that is required. There was this idea that Nick's character is haunted by destroying the life of one of his informants to the point that he fucks a hooker and gets a venereal disease which he then passes on to his wife (I think?). His wife then proceeds to have an accident that causes her to have amnesia. I think the wife subplot was probably the worst part of the movie as it just doesn't seem to mix all that well with the rest of the movie. And there's also the fact that the Ghost character is fighting to save his sister from being pimped out, and this is sort of muddled with everything else the movie wants to get over. Thankfully the action at the end is strong enough that it takes an average movie and makes it, as mentioned, surprisingly good.
Jesse Ortega
Super Reviewer
½
Stool Pigeon is a good film, but not a great film. The reason is simple, it lacks the same amount of intensive tension of its predecessor and relies much on the acting of Nicholas Tse and Nick Cheung to take the film to the end. Tse is great and almost carries the film on his shoulders. Dante Lam is a capable director and he is at his best, when the characters in his films are allowed to express their truest potential or perhaps when they go crazy. The film itself is not too memorable either. Instead what we got delivered to us is a film that entertains, some interesting chases, fine acting and positive direction.
Dean McKenna
Super Reviewer
The Stool Pigeon (Sin yan) Quotes
There are no approved quotes yet for this movie.