To Catch a Thief
(1955)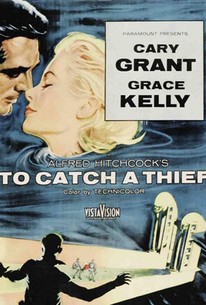 TOMATOMETER
AUDIENCE SCORE
Critic Consensus: It may occasionally be guilty of coasting on pure charm, but To Catch a Thief has it in spades -- as well as a pair of perfectly matched stars in Cary Grant and Grace Kelly.
Movie Info
A jewel thief is at large on the Riviera, and all evidence points to retired cat burglar Cary Grant. Escaping the law, Grant heads to the Cote D'Azur, where he is greeted with hostility by his old partners in crime. All of them had been pardoned due to their courageous activities in the wartime Resistance, and all are in danger of arrest thanks to this new crime wave. But Grant pleads innocence, and vows to find out who's been copying his distinctive style. With the reluctant aid of detective John Williams, Grant launches his investigation by keeping tabs on the wealthiest vacationers on the Riviera. One such person is heavily bejeweled Jessie Royce Landis, who is as brash and outspoken as her daughter Grace Kelly is quiet and demure. But "still waters run deep," as they say, and soon Kelly is amorously pursuing the far-from-resistant Grant. Part of Kelly's attraction to Grant is the possibility that he is the thief; the prospect of danger really turns this gal on. Being Cary Grant, of course, he can't possibly be guilty, which is proven in due time. But by film's end, it's obvious that Kelly has fallen hard for Grant, crook or no crook. Occasionally written off as a lesser Alfred Hitchcock film (did we really need that third-act fashion show?), To Catch a Thief is actually as enjoyable and engaging now as it was 40 years ago. Though the Riviera location photography is pleasing, our favorite scene takes place in a Paramount Studios mockup of a luxury hotel suite, where Grant and Kelly make love while a fireworks display orgasmically erupts outside their window. And who could forget the scene where Jessie Royce Landis disdainfully stubs out a cigarette in an expensive plate of eggs? Adapted by frequent Hitchcock collaborator John Michael Hayes from a novel by David Dodge To Catch a Thief won an Academy Award for cinematographer Robert Burks.
News & Interviews for To Catch a Thief
Critic Reviews for To Catch a Thief
Audience Reviews for To Catch a Thief
Hitchcock classic that is unusually light-hearted and charming for the master of psycho thrillers. 60 years later the film mostly works thanks to its beautiful settings and landscapes and the charming actors. The plot is not particularly exciting or surprising by today's standards.
I'm not sure there's anything extra special about this film, but compared to a great many, its craft and its plot are excellent. The colours are beautiful, and Grace Kelly absolutely shines. The suspicion cast on Cary Grant's character keeps you watching - and of course, guessing - right to the very end, constantly ratcheting up the tension in the way only Hitchcock can. It's one of the director's least disturbing and most accessible works, and unlike a lot of his early stuff, it doesn't feel dated - justifiably called a classic.
Daniel Perry
Super Reviewer
This is once again Hitch making a film that's a mix of romance and thrills, although here the focus is more on the romance. That's really not a bad thing though. The film is really straight forward, but it's still solid and good. I mean, it's about a jewel thief on the loose, with the prime suspect being a reformed cat burglar trying to move on with his life. He tries to start up a relationship with an heiress, who, despite having feelings for him, is still very suspicious of him. What really makes the film stand out are the strong performances (decent overall, but not the best work for the performers), and the stunning cinematography, which was at least nominated for an Oscar. The locations are good too, but really come alive just for the wonderful camera work. All in all, a solid, entertaining Hitch romp, though in the grand scheme of things, it's in the middle of his filmgraphy in terms of greatness, but that also basically means that if another director made it, it would probably be at the top of their list.
Chris Weber
Super Reviewer
To Catch a Thief Quotes
| | |
| --- | --- |
| Frances Stevens: | Have you ever had a better offer? |
| John Robie (The Cat): | You know as well as I do, those jewels are fake. |
| Frances Stevens: | Well I'm not. |
| | |
| --- | --- |
| Frances Stevens: | He's a thief. |
| Mrs. Jessie Stevens: | And what did he steal from you? |
| Frances Stevens: | Oh, mother! |
| Mrs. Jessie Stevens: | Since when is love a crime? |
| | |
| --- | --- |
| John Robie (The Cat): | John Robie: You're here in Europe to buy a husband. Frances Stevens: The man I want doesn't have a price. John Robie: That eliminates me. |
| John Robie (The Cat): | You're here in Europe to buy a husband. |
| Frances Stevens: | The man I want doesn't have a price. |