Vive l'Amour
(1994)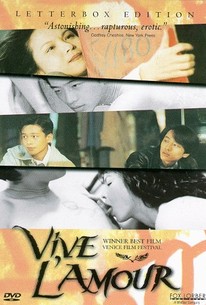 Movie Info
This second film by prominent Taiwanese director Tsai Ming-liang is a brilliant portrayal of isolation and urban disillusionment in modern Taipei. The movie focuses on three lonely souls: Hsiao-kang, a gay salesman of crematorium niches who wanders the city on his scooter; Ah-jung, a handsome street hawker of counterfeit designer goods; and May Lin, a struggling real estate agent. Hsiao-kang sneaks into a vacant apartment with a stolen key, takes a bath, and tries to slash his wrists. Meanwhile, May picks up Ah-jung and enters the same flat for a late-night tryst. As the film progresses, each character goes through the tedium of their lives: May waits in empty houses for prospective clients; Ah-jung hawks his wares while avoiding the police, and Hsiao-kang places fliers in anonymous mailboxes. All three use the unoccupied apartment at various times for their own needs without realizing the presence of the others, until Hsiao-kang and Ah-jung run into each other. After they both flee the place when May arrives, they develop an odd sort of friendship. ~ Jonathan Crow, Rovi
Critic Reviews for Vive l'Amour
Audience Reviews for Vive l'Amour
½
Tsai is an amazingly talented director and brings those themes that he explored in his first film to a higher level with a nearly silent tale of young Taipei adults who long for any spark of love or connection as they endure the relentless grip of urban loneliness and hopelessness.
Carlos Magalhães
Super Reviewer
3 lonely souls in Taipei found themselves unknowingly sharing a single apartment. Vive L'Amour is an anti-film in itself that the dialogues were minimal and many long single shots were used to present the characters in a scrutinizing way. Enjoyable if you can withstand slow paced films.
Sylvester Kuo
Super Reviewer
½
a nearly wordless film that works as a kind of homage to antonioni's themes, especially in 'l'eclisse'. three characters share an apartment, unbeknownst to each other as they almost never interact, a metaphor for the anonymity and alienation of big city life. beautifully done. i'm working through tsai's filmography in order and i recommend it highly
Stella Dallas
Super Reviewer
Vive l'Amour Quotes
There are no approved quotes yet for this movie.
Discussion Forum
Discuss Vive l'Amour on our Movie forum!