Voyage of Time: The IMAX Experience
(2016)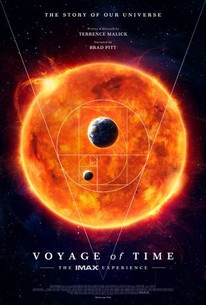 Voyage of Time: The IMAX Experience Videos
Voyage of Time: The IMAX Experience Photos
Movie Info
Voyage of Time: The IMAX Experience is a one-of-a-kind celebration of life and the grand history of the cosmos, transporting audiences into a vast yet up-close-and personal journey that spans the eons from the Big Bang to the dinosaur age to our present human world ... and beyond. A labor of love from one of American cinema's most acclaimed and visually exciting filmmakers, Terrence Malick (The Thin Red Line, The Tree of Life), Voyage of Time represents the filmmaker's first foray into documentary storytelling. The film's panorama of awe-inspiring images will take you into the heart of monumental events never witnessed - from the birth of the stars and galaxies to the explosion of diverse life-forms on planet earth, including humankind - in immersive new ways that only IMAX can deliver. This is a cosmic experience - a hymn to the glories of nature, life and scientific discovery - in which all the elements come together to form Malick's most original film to date. Voyage of Time will be released in two unique formats: Voyage Of Time: Life's Journey, the 90-minute experience narrated by Cate Blanchett, which takes audiences on a poetic and provocative ride full of open questions; and Voyage of Time: The IMAX Experience, a 40-minute, giant-screen adventure narrated by Brad Pitt, which immerses audiences directly into the story of the universe and life itself, and which will be shown exclusively in IMAX (R) theatres beginning October 7.
News & Interviews for Voyage of Time: The IMAX Experience
Critic Reviews for Voyage of Time: The IMAX Experience
Audience Reviews for Voyage of Time: The IMAX Experience
½
Terrance Malick takes us on a journey throughout time, from our very beginnings in space to the evolution of life and our times. Narrated by Hollywood superstar; Brad Pitt with a very philosophical undertone to go with the initial explanation of talking these concepts to a child. As an Imax experience, with the initial picture quality and immaculate detail captured by the outstanding cinematography, the film is a gorgeous wonder to look at and experience throughout it's 45 minute run-time. It may be short but it showcases a lot, from the cosmic activity of the universe, earth's beginning's, evolution of the landscape, life and to question our important place here on this earth as one thing of many in the universe. I didn't find it all that surprising nor did I think the film offered any deeper thought than the philosophical nature the narration was offering in conjunction to the imagery it was capturing. Nonetheless, this is what Terrance Malick is doing best these days, while it doesn't push any boundaries like 'The Tree of Life', it's amazing to witness and be captivated by what Malick is implying.
Luke Eberhardt
Super Reviewer
Voyage of Time: The IMAX Experience Quotes
There are no approved quotes yet for this movie.