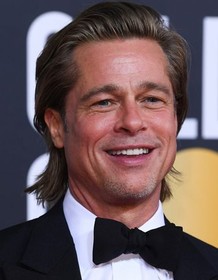 Brad Pitt
Highest Rated: 100% Big Men (2013)
Lowest Rated: 4% Cool World (1992)
Birthday: Dec 18, 1963
Birthplace: Shawnee, Oklahoma, USA
Born in Oklahoma and raised in Missouri, Brad Pitt viewed Hollywood from afar in his youth. As he came of age, he attended the University of Missouri, but just shy of graduation, he left, setting sail for California so he could try his hand at becoming an actor in the mid-1980s. His early work was mostly uncredited, with appearances in "Less Than Zero" (1987) and an episode of "21 Jump Street" (Fox 1987-1991). His first leading film role was in "The Dark Side of the Sun" (1988), but the film was barely seen. That was followed up by a starring role on the show "Glory Days" (Fox 1990), but that only lasted six episodes. Pitt's first notable role arrived in Ridley Scott's "Thelma & Louise" (1991), which led to another scene-stealing turn a few years later in the Quentin Tarantino-written "True Romance" (1993). Nearly a decade after leaving college to go to California, Pitt broke through in 1994, where he starred in "Interview with the Vampire" (1994) and "Legends of the Fall" (1994). He followed that up in the next few years with memorable performances in David Fincher's "Seven" (1995) and Terry Gilliam's "12 Monkeys" (1995), the latter of which led to his first Academy Award nomination for Best Supporting Actor. That good run of acclaim hit a speed bump after Pitt starred in a pair of commercial and critical disappointments in "Seven Years in Tibet" (1997) and "Meet Joe Black" (1998). He wasn't down for long, though, as he reunited with David Fincher for his critically acclaimed turn as Tyler Durden in "Fight Club" (1999). Around that time is when Pitt met Jennifer Aniston. The two married in 2000 and Pitt even earned an Emmy nomination for a guest role alongside Aniston on "Friends" (NBC 1994-2004). At the start of the new millennium, he starred in a number of films, including Steven Soderbergh's "Ocean's Eleven" (2001) and "Ocean's Twelve" (2004), the Greek epic "Troy" (2004), and "Mr & Mrs. Smith" (2005). He starred opposite Angelina Jolie in "Mr & Mrs. Smith" and that's where their relationship blossomed following Pitt's divorce with Aniston. The pair did not marry until 2014, though they were together in 2005 as Pitt adopted Jolie's children and the two started having their own kids. In 2007, Pitt began a run of acting roles that led to more Oscar buzz and acclaim, starting with "The Assassination of Jesse James by the Coward Robert Ford" (2007) and and leading to his Best Actor-nominated performance in Fincher's "The Curious Case of Benjamin Button" (2008). A few years later, Pitt notched another Best Actor nomination for his performance as Billy Beane in the baseball-inspired "Moneyball" (2011). He even earned a credit for the Best Picture nomination "Moneyball" received as he was a producer on the movie. Two years later, Pitt would win a Best Picture award for producing "12 Years a Slave" (2013). While winning awards for behind the scenes work, he still kept up as a box office star with "World War Z" (2013). In 2016, Pitt and Jolie separated, coinciding with a stretch where Pitt appeared in more cameos than starring roles. 2019 was a big return, though, as Pitt starred alongside Leonardo DiCaprio in Tarantino's "Once Upon a Time in Hollywood" (2019) and the space drama "Ad Astra" (2019).
Photos
SLEEPERS, Brad Pitt, 1996, with cigarette
MR. AND MRS. SMITH, Brad Pitt, 2005, TM & Copyright (c) 20th Century Fox Film Corp. All rights reserved.
FIGHT CLUB, Edward Norton (arms folded), Brad Pitt (tan jacket), 1999, TM & © 20th Century Fox Film Corp
FIGHT CLUB, Brad Pitt, 1999, TM & © 20th Century Fox Film Corp.
INTERVIEW WITH THE VAMPIRE, Brad Pitt, 1994, (c)Warner Bros.
ALLIED, l-r: Marion Cotillard, Brad Pitt, director Robert Zemeckis on set, 2016. ph: Daniel Smith/©Paramount Pictures
FIGHT CLUB, Brad Pitt, Edward Norton, 1999, TM & Copyright (c) 20th Century Fox Film Corp.
TROY, Brad Pitt, 2004, (c) Warner Brothers
TROY, Brad Pitt, 2004, (c) Warner Brothers
THE DEVIL'S OWN, Brad Pitt, 1997, © Columbia
KALIFORNIA, Brad Pitt, 1993, © Gramercy Pictures
THE DEVIL'S OWN, Brad Pitt, 1997, © Columbia
ONCE UPON A TIME IN HOLLYWOOD, FROM LEFT: BRAD PITT, LEONARDO DICAPRIO, 2019. PH: ANDREW COOPER/© COLUMBIA
FAVOR, Elizabeth McGovern, Ken Wahl, Brad Pitt, Harley Jane Kozak, Bill Pullman, 1994
JOHNNY SUEDE, Brad Pitt, Catherine Keener, 1991. ©Miramax Films.
INGLOURIOUS BASTERDS, Brad Pitt, on set, 2009. ©Weinstein Company
KALIFORNIA, Brad Pitt, 1993, © Gramercy Pictures
American Idol, Brad Pitt, Season 7, 1/15/2008, ©FOX
SEVEN, Brad Pitt, 1995, (c) New Line
SEVEN, Brad Pitt, 1995, (c) New Line
Filmography
Movies
Credit

No Score Yet

No Score Yet

Beetlejuice 2
Producer
-
2024

No Score Yet

No Score Yet

Bob Marley: One Love
Executive Producer
-
2024

No Score Yet

No Score Yet

World War Z 2
Gerry Lane (Character),
Producer
-
2024

72%

50%

Landscape with Invisible Hand
Executive Producer
$190.2K
2023

57%

52%

Babylon
Jack Conrad (Character)
$15.2M
2022

88%

91%

She Said
Executive Producer
$5.8M
2022

42%

34%

Blonde
Producer
-
2022

54%

76%

Bullet Train
Ladybug (Character)
$103.1M
2022

80%

52%

Father of the Bride
Executive Producer
-
2022

79%

83%

The Lost City
Jack Trainer (Character)
$104.9M
2022

No Score Yet

No Score Yet

Babylon: Trailer
Unknown (Character)
-
2022

No Score Yet

No Score Yet

Brad Pitt: Breaking Hollywood
Self
-
2021

100%

No Score Yet

Civil War (Or, Who Do We Think We Are)
Executive Producer
-
2021

98%

87%

Minari
Executive Producer
$700.0K
2020

No Score Yet

No Score Yet

Tripping with Nils Frahm
Executive Producer
-
2020

90%

47%

Kajillionaire
Executive Producer
$524.0K
2020

40%

61%

Irresistible
Executive Producer
-
2020

No Score Yet

No Score Yet

Unity Temple: Frank Lloyd Wright's Modern Masterpiece
Unknown (Character)
-
2020

71%

83%

The King
Producer
-
2019

83%

40%

Ad Astra
Roy McBride (Character),
Producer
$50.2M
2019

85%

70%

Once Upon a Time... In Hollywood
Cliff Booth (Character)
$142.4M
2019

92%

84%

The Last Black Man in San Francisco
Executive Producer
$4.5M
2019

65%

60%

Vice
Producer
$47.8M
2018

95%

71%

If Beale Street Could Talk
Executive Producer
$14.9M
2018

68%

78%

Beautiful Boy
Producer
$7.6M
2018

79%

55%

Brad's Status
Executive Producer
$2.1M
2017

86%

81%

Okja
Executive Producer
-
2017

48%

34%

War Machine
Gen. Glen McMahon (Character),
Producer
-
2017

86%

58%

The Lost City of Z
Executive Producer
$8.6M
2016

60%

64%

Allied
Max Vatan (Character)
$39.8M
2016

98%

79%

Moonlight
Executive Producer
$27.9M
2016

No Score Yet

No Score Yet

Voyage of Time
Narrator,
Producer
-
2016

68%

45%

Voyage of Time: Life's Journey
Producer
-
2016

90%

75%

Voyage of Time: The IMAX Experience
Unknown (Character)
-
2016

No Score Yet

92%

Hitting the Apex
Narrator,
Producer
-
2015

89%

88%

The Big Short
Ben Rickert (Character),
Producer
$70.2M
2015

35%

29%

By the Sea
Roland (Character),
Producer
$531.0K
2015

45%

38%

True Story
Executive Producer
$4.7M
2015

99%

86%

Selma
Executive Producer
$52.1M
2014

76%

84%

Fury
Don "Wardaddy" Collier (Character),
Executive Producer
$85.8M
2014

94%

88%

The Normal Heart
Executive Producer
-
2014

100%

77%

Big Men
Executive Producer
$43.2K
2013

34%

24%

The Counselor
Westray (Character)
$16.9M
2013

95%

90%

12 Years a Slave
Bass (Character),
Producer
$56.7M
2013

32%

57%

Kick-Ass 2
Producer
$28.8M
2013

66%

72%

World War Z
Gerry Lane (Character),
Producer
$202.4M
2013

74%

44%

Killing Them Softly
Jackie Cogan (Character),
Producer
$14.9M
2012

No Score Yet

No Score Yet

Killing Them Softly
Unknown (Character)
-
2012

46%

60%

Happy Feet Two
Will the Krill (Voice)
$64.0M
2011

No Score Yet

51%

His Way
Self
-
2011

94%

86%

Moneyball
Billy Beane (Character),
Producer
$75.6M
2011

85%

60%

The Tree of Life
Mr. O'Brien (Character),
Producer
$13.3M
2011

No Score Yet

No Score Yet

The Tree of Life
Unknown (Character)
-
2011

No Score Yet

No Score Yet

Corrections
Unknown (Character)
-
2011

73%

72%

Megamind
Metro Man (Voice)
$148.3M
2010

35%

42%

Eat Pray Love
Executive Producer
$80.6M
2010

77%

81%

Kick-Ass
Producer
$48.0M
2010

No Score Yet

94%

Megamind
Metro Man (Character)
-
2010

69%

50%

The Private Lives of Pippa Lee
Executive Producer
-
2009

89%

88%

Inglourious Basterds
Lt. Aldo Raine (Character)
$120.5M
2009

39%

59%

The Time Traveler's Wife
Executive Producer
$63.4M
2009

71%

80%

The Curious Case of Benjamin Button
Benjamin Button (Character)
$127.5M
2008

78%

65%

Burn After Reading
Chad Feldheimer (Character)
$60.3M
2008

77%

75%

The Assassination of Jesse James by the Coward Robert Ford
Jesse James (Character),
Producer
$3.9M
2007

79%

70%

A Mighty Heart
Producer
$9.2M
2007

70%

75%

Ocean's Thirteen
Rusty Ryan (Character)
$117.1M
2007

70%

43%

Year of the Dog
Executive Producer
$1.5M
2007

91%

95%

God Grew Tired of Us
Executive Producer
$301.4K
2006

69%

77%

Babel
Richard (Character)
$34.3M
2006

32%

56%

Running With Scissors
Producer
$6.8M
2006

91%

94%

The Departed
Producer
$132.4M
2006

60%

58%

Mr. & Mrs. Smith
John Smith (Character)
$186.3M
2005

55%

60%

Ocean's Twelve
Rusty Ryan (Character)
$125.5M
2004

53%

73%

Troy
Achilles (Character)
$133.2M
2004

45%

56%

Sinbad: Legend of the Seven Seas
Sinbad (Voice)
$26.3M
2003

80%

75%

Confessions of a Dangerous Mind
Bachelor n. 1 (Character)
$16.0M
2002

39%

27%

Full Frontal
Brad / Himself (Character)
$2.5M
2002

83%

80%

Ocean's Eleven
Rusty Ryan (Character)
$183.4M
2001

64%

75%

Spy Game
Tom Bishop (Character)
$62.3M
2001

54%

44%

The Mexican
Jerry Welbach (Character)
$66.8M
2001

74%

93%

Snatch
One Punch' Mickey ONeil (Character)
$30.1M
2000

79%

96%

Fight Club
Tyler Durden (Character)
$37.0M
1999

46%

81%

Meet Joe Black
Joe Black (Character)
$44.6M
1998

37%

41%

The Devil's Own
Rory Devaney / Francis Austin McGuire (Character)
-
1997

58%

73%

Seven Years in Tibet
Heinrich Harrer (Character)
$37.9M
1997

73%

85%

Sleepers
Michael Sullivan (Character)
$53.3M
1996

83%

95%

Seven
Detective David Mills (Character)
$100.1M
1995

88%

88%

12 Monkeys
Jeffrey Goines (Character)
$57.1M
1995

27%

21%

The Favor
Elliott Fowler (Character)
$2.6M
1994

59%

87%

Legends of the Fall
Tristan Ludlow (Character)
$63.2M
1994

63%

86%

Interview With the Vampire
Louis de Pointe du Lac (Character)
$104.7M
1994

58%

64%

Kalifornia
Early Grayce (Character)
$1.8M
1993

93%

93%

True Romance
Floyd (Character)
-
1993

80%

83%

A River Runs Through It
Paul Maclean (Character)
$43.4M
1992

4%

31%

Cool World
Detective Frank Harris (Character)
$13.7M
1992

No Score Yet

No Score Yet

Two-Fisted Tales
Billy (Character)
-
1992

27%

47%

Johnny Suede
Johnny Suede (Character)
$8.5K
1991

No Score Yet

41%

Across the Tracks
Joe Maloney (Character)
-
1991

86%

82%

Thelma & Louise
J.D. (Character)
$43.3M
1991

No Score Yet

53%

Too Young to Die?
Billy Canton (Character)
-
1990

14%

22%

Cutting Class
Dwight Ingalls (Character)
-
1989

No Score Yet

46%

Happy Together
Brian (Character)
-
1989

No Score Yet

39%

The Dark Side of the Sun
Rick (Character)
-
1988
TV