Wholly Moses!
(1980)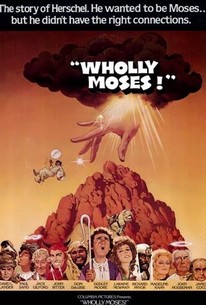 AUDIENCE SCORE
Critic Consensus: No consensus yet.
Movie Info
A broadly farcical comedy that attempts to ape the wickedly funny, Bible-spoofing humor of the previous year's Monty Python's Life of Brian (1979), this all-star rib-tickler top-lines Dudley Moore as Herschel, a historical also-ran whose life so closely parallels that of Moses that Herschel begins believing that he, not the other guy, is God's chosen prophet, setting out to free his people from slavery even though his services are not required. Herschel's travels are always a step or two behind Moses and bring him into the company of various period personnel, including Egypt's Pharoah (Richard Pryor), the Devil (John Ritter), an angel (Paul Sand), and the beautiful Zerelda (Laraine Newman). He also discovers that his slave, Hyssop (James Coco), is actually his biological father. Herschel eventually becomes the subject of the lost "Book of Herschel," recounted in a scroll discovered by a modern-day couple (also played by Moore and Newman) vacationing in the Holy Land. Wholly Moses (1980) co-stars several other recognizable actors in supporting roles, including John Houseman, Madeline Kahn, and Jack Gilford.
Rating:
PG
Genre:
Directed By:
Written By:
In Theaters:
On DVD:
Runtime:
Studio:
Sony Pictures Entertainment
News & Interviews for Wholly Moses!
Critic Reviews for Wholly Moses!
There are no critic reviews yet for Wholly Moses!. Keep checking Rotten Tomatoes for updates!
Audience Reviews for Wholly Moses!
½
Let the orgy commence Two tourists traveling on a painful tour of the Middle East are participating in some biblical site seeing. They stray off the beaten path and wander into a cave. Within the cave they come across a scroll that tells the tale of a biblical character called Hershel whose life ran parallel to Moses. Hershel also spoke to god and felt he was the chosen one; unfortunately, Moses steals his thunder. "That god is all powerful, you witless ass." Gary Weis, director of Young Lust, Things we did Last Summer, and a Jimmy Hendrix and Beach Boys documentary, delivers Wholly Moses! The storyline for this picture may have been trying to capitalize on the success of such films as Time Bandits and the Monty Python pictures. Unfortunately, this film's brand of humor was dry and produced few laughs. The acting was solid for this genre of film and contained Dudley Moore, Richard Pryor, Dom DeLuise, Laraine Newman, and James Coco. "Shouldn't you be in chains?" My wife came across this movie while flicking through the channels and decided to give it a shot. While my score doesn't reflect it, I did enjoy watching this movie and seeing the plot unfold. Unfortunately, this was a non-funny comedy that doesn't live up to its potential or measure up well to other films in this genre. This is worth seeing when it airs on cable but isn't worth going out of your way to catch. "This is my first orgy." Grade: C
Kevin Robbins
This is theee best movie!!! I watch this everytime I need a good lauph Dudley moore at his best he thinks god is speeking to him in the whole show and hes not he is speeking to mosses around the corner makes ya wounder if this could have been hahahah If a funny guy was messin things up back in the day I love the giants bigg undies hahahah lord and the lady that turns to a pillar of salt and the muti boobied sculptures.. this is just a great little flick if you like The Jerk With Steave Martin then you will like this !! mostely all the stars in this are loong dead now and i just am rilly happy they left this tresure behind :)
angel marth
Discussion Forum
Discuss Wholly Moses! on our Movie forum!