On the Verge: Season 1
(2021)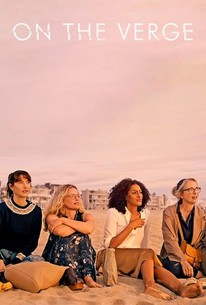 Rate And Review
On the Verge: Season 1 Photos
Audience Reviews for On the Verge: Season 1
I thought the characters were odd and self absorbed. Not relatable. I keep watching thinking I will like the show better by the next episode. So far it's not working.

On The Verge is so well done! It's understated yet brilliant.

Binged the whole thing. The season started slowly and it took a while to warm up to the characters and plot line but very glad I stuck it out. The four women are so incredibly flawed it's cringeworthy to watch. But it made me feel good about myself for not being that messed up. Can't wait for Season 2!

It's a bit weird and not always a good weird. Feels like the show tries too hard. What I do like is that it has really funny moments.

Loved this show, humorous, cleverly written - four great characters with interesting stories. Loved Julie Delpy.

I loved this! So refreshing to see a light hearted comedy that is also realistic and totally relatable.

My daughter and I have really enjoyed the first 3 episodes of On The Verge and look forward to more. We find the 4 women more relatable and likeable than Lily Tomlin and Jane Fonda's Grace and Frankie, which we also enjoy although we can't relate to the characters or situations in G and F much at all. The messiness of the 4 friends' complicated lives in On The Verge with their various neuroses and frustrations seem quite plausible. Written by a French American woman the show is for women, clearly, and it doesn't surprise me that I read an unflattering review by a man on Decider who found the characters unlikeable and advised viewers to skip it. I completely disagree with him. I'm sure most women will LOVE this show for its unsparing yet humorous portrayal of women's every day struggles with career, marriage, divorce, motherhood, childcare, friendships, ageism, racism, sex, it's all here. Watch watch watch.

What a great little treasure! Loved it!!

Entretenido, interesante e inesperado.