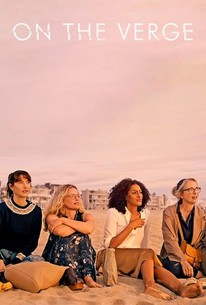 Where to watch
Subscription
Rate And Review
On the Verge: Season 1 Photos
Audience Reviews for On the Verge: Season 1
Ridiculous waste of time , not funny , unrealistic, contrived . You will keep waiting for it to amount to something and it never does .

Enjoyed Julie Delpy the others...eh...Elizabeth Shue was reasonable! Happy to see Stephanie Powers playing the mom! But the rest...maybe if they could get over their TDS and all the talk about Cali/taxes/homelessness...etc...pick on Big Gav? Oh wait it's Bollywood, not reality.

None of these women are likeable. They make bad choices, seem to want to use their kids for their own comfort or gain, are whiney over their own inability to find happiness, or are so completely out of touch with their kids' generation that it is unbelievable. I am not finding anything redeeming about them as people and find no reason to root for them to get better. I like Shue & Delpy a lot, but this material doesn't do them any favors.

I'm not even sure how many main characters there are, because they are all so tropey, unlikeable, & unimaginatively written. If you enjoy watching middle-aged ladies act like tweens, while pathetically refusing to do anything about the problems in their extremely entitled lives, go watch Real Housewives, because that's much better TV.

So good. the whole family loved it. Why didn't I hear about it until now? Recommending to everyone. Where is the nudity? Didn't see any!

When Julie Delpy is at the helm, everything is wonderful. But when the direction is in the hands of others it goes from being fast moving and hysterical too slow, predictable and dull. Still worth watching, even in its inconsistency.

It's the best Netflix show ever produced !

It's not fully developed but it has something

Three Julie Delpy movies are my all-time favourites, and I love some of her songs too 😁, but there are a few randomly off-the-mark efforts in her portfolio - and this show is one of them. There is so much to dislike here. I should love this, I'm clearly the market - I'm about their age, re-evaluating one's life post-menopause, have a child and close girlfriends, etc. But I can't find a single thing to relate to here, the characters are not flawed, they're just horrible, irritating, self-obsessed, and their values?! Where do you begin? The humour, I'm sure intended to be kooky and charming, isn't, and at times just borderline offensive, and flat to boot. The writing is just weird - incomprehensible at times. I can't follow the bizarre voiceovers, I'm guessing they're attempts to share something meaningful - but nope. And what is it with the culture of nannies raising their kids? Is this normal in the US? I must be missing something about being a regular working mum. And the 'help' is drawn as either lazy and incompetent, or not all - just a background feature, because you know, they're not real people with their own concerns, like these four smug ladies, so wrapped up in their own pointless, self-perpetuated dramas. I credit Delpy with coming up with something much more insightful and interesting and three-dimensional. Maybe next time.

I watched a few episodes and had to turn it off. These are "best friends", who lie, say and do horrible things (relationship wise) to each other and other people much of the time. The frequent "rush to rescue" one friend in contrast with their regular behavior is incomprehensible to me. The story told at the dinner table about fellatio and AIDs which no one (particularly the subject) stopped - hilarious (sarcasm). I like sardonic humor, dark humor, but this doesn't qualify as humor for me. Cast & production values are good.
See Details