SEASON: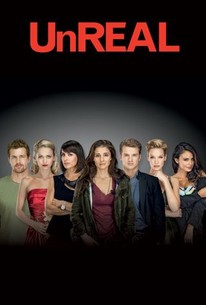 Tv Season Info
TV producer Rachel Goldberg (Shiri Appleby) reluctantly returns to work on the set of reality dating show Everlasting after being coaxed by her boss Quinn King (Constance Zimmer). Because she left the show after a spectacular mental breakdown during the previous season's finale, Rachel faces hostility from co-workers. Nonetheless, Rachel effectively does her job of creating ratings-boosting drama among the show's cast for Quinn—too effectively as it turns out when tragedy hits the set. Along the way, Rachel gets involved in a love triangle with her ex-boyfriend Jeremy (Josh Kelly) and Everlasting's current suitor Adam (Freddie Stroma). Quinn, on the other hand, carries on an affair with Everlasting's creator Chet (Craig Bierko). The first season of "UnReal" also casts Jeffrey Bowyer-Chapman and Aline Elasmar as Everlasting producers Jay and Shia, Johanna Braddy as Anna, Breeda Wool as Faith, Nathalie Kelley as Grace, Ashley Scott as Mary, and Mimi Kuzyk as Dr. Olive Goldberg.
News & Interviews for UnReal: Season 1
Audience Reviews for UnReal: Season 1
Incredibly addictive, UnREAL is a trashy and provocative dark satire from Lifetime. Season 1 follows the behind-the-scenes of a dating show called Everlasting, where a group of women compete for a rich British aristocrat while the producers manipulate them in order to provoke melodrama that will generate ratings. Shiri Appleby and Constance Zimmer lead the cast and give outstanding performances. And the writing is quite impressive, with sharp, witty dialog and clever, daring plot twists. Additionally, the serial storytelling does a great job at building suspense and tension as the season progresses, with gripping cliffhangers at the end of each episode. Scandalous and shocking, Season 1 of UnREAL is a gritty exposé of reality television.
UnREAL takes a look behind the scene on a fictional The Bachelor satire. Rachel is a manipulative specialist in creating drama on screen, but it takes a toll on her emotional stability. With every character having their own agenda, reality TV show becomes chaotic. The acting was natural and the writing was nice too. Initially I thought the idea was silly but UnREAL might just help Lifetime achieve something ground breaking.
Discussion Forum
Discuss UnReal on our TV talk forum!