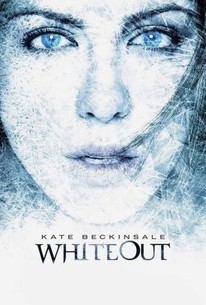 Whiteout
2009, Mystery & thriller, 1h 41m
117 Reviews
250,000+ Ratings
What to know
critics consensus
Kate Beckinsale is as lovely as ever, and does her best with the material, but moribund pacing and an uninspired plot leave Whiteout in the cold. Read critic reviews
Where to watch
Rent/buy
Rent/buy
Rent/buy
Rate And Review
Movie Info
The only U.S. Marshal assigned to Antarctica, Carrie Stetko (Kate Beckinsale) will soon leave the harsh environment behind for good; in three days, the sun will set and the Amundsen-Scott Research Station will shut down for the long winter. When a body is discovered out on the open ice, Carrie's investigation into the continent's first homicide plunges her deep into a mystery that may cost her her own life.
News & Interviews for Whiteout
Audience Reviews for Whiteout
Just a poor thriller that they think if they change the location to Antarctica it will somehow be better, They were wrong, The very predictable plot plods along with nothing exciting or new, Kate Beckinsale does an ok job but even she can't save this film from being very thin and very poor and very forgettable.

The film just never comes together thanks to some rather poor writing and direction. In one opinion it could of worked but these high concept thrillers never click. The story is quite one dimensional and misses a lot of back story. I was genuinely invested on the story at the beginning but then the twists starting coming alive. The minute the body is discovered the whole film is doomed. It just becomes a very poor thriller without any clear conclusion. The cast is quite good but they can't survive a film like this. It is quite obvious that the studio green lite this from the pitch. Everyone is essentially after a pay day. A poor thriller and easily further proof you can't sit on a high concept thriller without any depth. I really wanted to be sucked into a slasher film in the antartic, who wouldn't be. The film just had poor choices made well before shooting began. Choosing Sena is the first as director

considering where it was set there was no feeling of isolation and although interspersed amongst the story there were some nice shots of tundra it blatently fell flat all the way through

In "Whiteout," a body has been found in Antarctica which does not sound that unusual on the surface, considering there are so many ways to die in such inhospitable climes. But as U.S. Marshall Carrie Stetko(Kate Beckinsale) and Dr. John Fury(Tom Skerritt) discover, this was no accident. They manage to trace the body back to Vostok Base, from where they are contacted by Mooney(Steve Lucescu), one of the researchers tasked with finding meteorites. What Carrie discovers when she gets there is Mooney's dead body, barely escaping with her own life. The clock is now ticking with two days left before the last plane back to civilization leaves and six months of winter. That's not to mention the quickly approaching storm. For the record, "Whiteout" is a prime example of mediocrity. It has a great setting for a thriller and the action sequences are competently handled. But the story is full of holes, and very contrived ones at that. Maybe I should be glad that it is not all leading up to an alien invasion but still disappointed that more thought was not given. And that's not to mention the movie tips its hand right out of the gates. Plus, Carrie is something of a walking cliche, with flashbacks to keep her up at night. At least she does not fall into the usual narrative trap.
See Details