...And God Created Woman
(1956)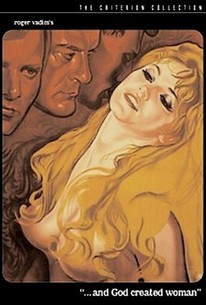 Movie Info
This Roger Vadim production was released in the US as ...And God Created Woman. Vadim's then-wife Brigitte Bardot plays the central character, a curvaceous nymphet with a voracious sexual appetite. In fact, it isn't what Bardot does in bed but what she might do that drives the three principal male characters (Curd Jurgens, Jean-Louis Trintignant, Christian Marquand) into an erotic frenzy. Most available prints of ...And God Created Woman have been heavily edited to conform with the prevailing censorial standards of 1957. Vadim remade his own film in 1987. ~ Hal Erickson, Rovi
Critic Reviews for ...And God Created Woman
Audience Reviews for ...And God Created Woman
In "...And God Created Woman," Eric Carradine(Curd Jurgens) wants to build a waterfront casino in the south of France. And would, except for the fact that Antoine Tardieu(Christian Marquand) will not sell him the family shipbuilding business. What the two men have in common is Juliette(Brigitte Bardot), an 18-year old orphan who flirts with both of them. That and the nude sunbathing get her foster parents to send her back to the orphanage until she is 21. So, she pulls a runner before having second thoughts. That gives the guys enough time to consider her options which come down to either adoption or marriage... The once shocking "...And God Created Woman" might seem tame by today's standards but is still risque enough to merit interest, especially in the movie's climactic nightclub scene. On the other hand, its message about society not knowing what to do with sexual women still resonates, as does the insight that the more restictive a society, the worse men will act. Even as the story is inconsistent, wavering between comedy and melodrama, there is still Brigitte Bardot who makes a great entrance. While it takes 30 minutes for anybody to notice Jean-Louis Trintignant, don't worry as he is only getting started.
This movie was really cool, it's sort of like a sexier more modern version of Taming of the Shrew.
Ok flick, pretty racy, especially for its time. Brigitte Bardot is gorgeous as the free-spirited woman that all the men lust for, One thing particularly stuck with me though, that takes away from my rating. One man just aches to get it one with Brigitte. She gives in to him because she's in love with him. They have their good time, then he immediately starts barking at her about what a digusting tramp she is and how no decent man will ever have her. This has bugged me ever since I first saw the film. Is this what men thought of sexually-free women in the 50s? If she is such trash, what does it say about him that he slept with her?
...And God Created Woman Quotes
There are no approved quotes yet for this movie.