Bananas!
(2009)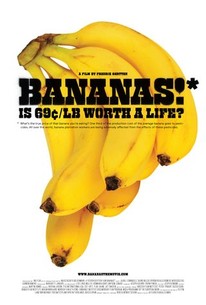 Movie Info
This documentary from filmmaker Fredrik Gertten observes the legal experiences of 12 workers on a banana plantation in Nicaragua, who hire Cuban-American attorney Juan Dominguez for representation in their class-action lawsuit against corporate giant Dole Foods. The suit finds its plaintiffs accusing Dole of causing infertility en masse among their population thanks to the use of the DBCP crop pesticide - a chemical banned in the United States four years prior, but still used in Nicaragua after that ban despite Dole's full awareness of the dangers present. The legal battle itself occupies center stage; though the plaintiffs' attorney Duane Miller presents his clients as traumatized, corporately-violated victims, the attorney representing dole paints them as drunks and liars - leading to a heated, highly aggressive courtroom showdown. ~ Nathan Southern, Rovi
Rating:
NR
Genre:
, ,
Directed By:
In Theaters:
On DVD:
Runtime:
Studio:
Critic Reviews for Bananas!
Audience Reviews for Bananas!
This film told a compelling story the whole way through, only to tack on an ending saying that the hero may not be a hero. An interesting tale of developing-world labourers taking on a multinational corporation - Standard Fruit Company (Dole) - that keeps your interest the whole way... until you find out (not a spoiler, this is all over the internet) that the lawyer prosecuting the suit has been charged with fraud. Dole is attempting to say that the evidence was fabricated. Maybe the labourers don't speak enough English, or they don't remember, or maybe, they changed their stories trying to get a big award to take back to their communities. In any case, this was a feel-good story that unfortunately, doesn't make me feel good anymore. In 10 years, though, once ALL the parts of the case are wrapped up, and a fictionalized version comes out, maybe this will work better. Actually, just start a series of Erin Brokovich movies, like Rambo but in a courtroom...
Daniel Perry
Super Reviewer
Bananas!* is David vs. Goliath. David is L.A.'s "super lawyer" Juan Dominguez representing mistreated Nicaraguan banana workers. Goliath is the Dole Food Company. Basically what happened was that Dole had been using pesticides on their bananas in plantations in Nicaragua. But, the pesticide led to adverse affects on the local banana workers, who were given no precautions before being exposed to the pesticide. The film follows the team of lawyers lead by Juan Dominguez as they fight against Dole for these impoverished workers. The film is enraging, being the necessary spark to make you want to boycott the Dole company. But where it falters, in my opinion, is that it does not show enough of the workers. In any case I recommend this film to everyone, not because it is a good film, but because I feel everyone needs to watch it. Everyone needs to know how large American companies like Dole abuse their power in other countries, greatly affecting the locals, and how they always get away with it. Go Chiquita.
Billy Trenton
What appears to be another David and Goliath story about repressed workers fighting a major corporation gets an objective treatment by director Fredrik Gertten. Juan Dominguez, an LA attorney is fighting the case of his life for Nicaraguan banana farm worker who may have been rendered impotent by the Dole Corporation's use of a banned Dow pesticide. Dole is clearly at fault in the case as documents link them to their insistence on using the banned chemical but the true objectiveness in the film is the way that the class action attorney Juan Dominguez is portrayed, he is not a white knight in search of truth, he is seen as manipulative, money obsessed and ultimately self absorbed. We also learn at the end of the film that he is being indicted for fraud as some of the workers he used to testify may have been sterile before ever working in the banana field and were found lying under oath. Rarely is a piece made in which both sides are so apparently caught for what they truly are. The heros here, just a lot of victims.
Generoso Fierro
Bananas! Quotes
There are no approved quotes yet for this movie.
Discussion Forum
Discuss Bananas! on our Movie forum!