The Flight of the Phoenix
(1965)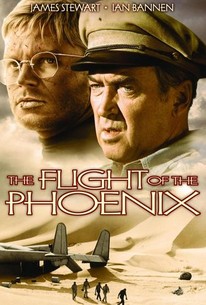 Movie Info
When an aircraft crash-lands in the Sahara, one of the survivors, a German designer, draws up a plan to build a glider from the wreckage, but the expected conflicts beneath the oppressive heat, make their chances of success seem slim at best in this dramatic adventure.
Critic Reviews for The Flight of the Phoenix
Audience Reviews for The Flight of the Phoenix
½
Justifiably popular adventure tale set in the deserts of Arabia where a windstorm forces down what should have been a simple hop, skip and a jump flight in the middle of the Sahara. Survival is the name of the game if it can be achieved over the fighting of the various egos present. Everyone does a good job, Stewart, Attenborough, et al, but Hardy Kruger as the unsung airplane designer comes out of nowhere and steals the whole film entirely to audience satisfaction, the only time I can think of where being a German national isn't summarily played for boos and hisses.
Kevin M. Williams
Super Reviewer
Robert Aldrich's Flight of the Phoenix is a near flawless classic action thriller that boasts a tremendous cast of phenomenal talent. The plot is very simply, and for that you get much more out of your viewing experience. The film concerns survivors of a plane crash in the desert trying to survive and rebuild their plane in order to live. Throughout the film there is a sense of tension and the situation that the characters are in, makes it an edge of your seat experience that makes a very memorable film to watch. With a cast like this director Robert Aldrich film is well structured and exciting despite its simplistic ideas on-screen. The film doesn't rely on great ideas to tell an interesting story, it has a simple plot with great acting and effective directing and that is what makes the film good. Aldrich would later direct the classic The Dirty Dozen, but with this film, he crafted something simple yet even more effective at delivering terrific entertainment than most of today's motion pictures. There is always a tense atmosphere throughout the film that keeps you hooked from start to finish and it combines action and suspense all in one film. Flight of the Phoenix is a near flawless picture that is a must see classic for genre fans or anyone looking for a simple story with great acting. This is a film that embraces its material to the fullest, and Robert Aldrich successfully manages to pull off something truly one of a kind. Any film fans will surely enjoy this picture and it is a wonderfully crafted movie that is much more exciting than what you would think. The cast which is headed by James Stewart is great and each actor brings something to the screen that makes this picture stand out among other survival action thrillers.
This adventure about a couple of men crash landing in the desert and trying to build a new plane from the remains while their egos are crushing is a true classic. The acting, even though over the top a few times, which may be a sign of the times, is outstanding and makes you feel as if you've known those characters for years. Their confrontations are a pleasure to watch, even while you cheer for them to get along and make it out of there together. A couple of smart twists, the great realistic atmosphere of the burning sun and the lack of water and the awesome finale make this one of the best films of the genre. One to be viewed over and over again.
The Flight of the Phoenix Quotes
| | |
| --- | --- |
| Frank Towns: | Your theory's fine, but you get this mister... that engine's rated at two thousand horsepower and if I was ever fool enough to let it get started up it'd shake your patched-up pile of junk into a thousand pieces, and cut us up into mincemeat with the propeller. |
Discussion Forum
Discuss The Flight of the Phoenix on our Movie forum!