100 Mile Rule
(2002)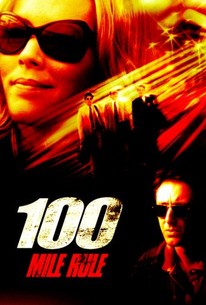 Movie Info
Following in the vein of (Roger Dodger and In the Company of Men), director Brent Huff presents a crash course on the relationship between sexual and corporate power plays in The 100 Mile Rule. The infamous rule states that one is well within his rights to sexually indulge himself with someone other than his wife or girlfriend, provided that he is more than 100 miles away from home. This so-called rule becomes a topic of hot debate when a couple of Detroit salesmen must attend a business trip. Jerry (David Thornton) is a vocal supporter of the rule, although most of his attempts to utilize it are met with contempt and disregard. Bobby (Jake Weber), however, is a family man who staunchly resists joining his friends in their visits to various escort services, strip joints, and porn shops. Unfortunately for everyone involved, Bobby falters and allows himself a sexual encounter with Monica (Maria Bello), a beautiful cocktail waitress. It turns out, however, that Monica demands payment for her services, and she has videotaped Bobby in bed with her. Although Jerry admits he orchestrated the entire thing due to a high-profile customer he had lost to Bobby, the two salesmen end up seeking advice from their senior manager Howard (Michael McKean), who has seen it all before.
Rating:
R
Genre:
,
Directed By:
Written By:
In Theaters:
On DVD:
Runtime:
Studio:
Honeydo
News & Interviews for 100 Mile Rule
Critic Reviews for 100 Mile Rule
Audience Reviews for 100 Mile Rule
I really don't know what to say about this comedy directed by Brent Huff. A story presented as a dark comedy about three salesmen from Detroit who come to Los Angeles for a two week seminar and get themselves involved in a world of trouble when their 'fun' snowballs into a roller-coaster ride of secrets, guilt, peer pressure and stupidity, was funny at the moments! Away from their wives and children, Bobby, Jerry and his boss Howard are tempted by beautiful women and alcohol in the hotel bar. Bobby, a family man, tries to avoid the "rule 100 miles" (if you are within 100 miles of your home, you are free to do as you please). While Jerry and Howard spend their free time chasing girls, Bobby is dedicated to spend some time with the outdoor sporting activities. There he meets Monica, a gorgeous hotel maid... Screenplay had its moments, that is a fact, but altogether wasn't fulfilling... still, I could not give it a lower rating than 60% because I did laugh. Casting wasn't perfect but Jake Weber, Maria Bello, David Thornton, Michael McKean, Nick Chinlund and Shawn Huff, did enough not to be blamed. Nothing special, but good for lonely nights.
5.5/10. Better than I was expecting. The cast works well together and do a fine job. The writing was very humorous at times. It also did drag from time to time, but overall not to bad. Maria Bello gives a sincere performance.
James Higgins
[font=Arial Black][img]http://shopping.yahoo.com/video/images/muze/dvd/sm/10/228310.jpg[/img][/font] [font=Arial Black]Plot: Two salesmen from Detroit are at a convention in L.A., hoping to put the "100 Mile Rule"--the idea that cheating on your wife is fine if you are 100 miles away from her--to good use. Their coworker, Bobby, doesn't believe in the rule, but he gives in when sexy waitress Monica (Maria Bello) comes on to him. After their tryst, she tells him that she videotaped it and wants $60,000 for the video or she's going to send it to his wife.[/font] [font=Arial Black][/font] [font=Arial Black]Review: I finally got to see this movie, I had the screener 4 this movie like 8 months ago and I just seen it yesterday and I wish I could have seen it earlier. 100 Mile rule is a really good movie I didn't really expect it to be anything close to good, dats y I really neva gave it a chance till yesterday. This movie has a lot of twist and it's really hilarious. Some great acting performances by Jake Weber who plays Bobby Davis the good family man salesman, which he played really well, Maria Bello plays Monica who tries to blackmail Bobby which she played really well and was fun to watch, David Thornton played Bobby's co-worker and friend and he was hilarious playing dat role one of my favorite performances in the movie and Michael McKean played Howard anotha co-worker of Bobby's and he was also hilarious. The script and dialogue to this movie was great, it was hilarious with a lot of drama and twists. The ending could have been betta but I was satisfied wit it. Overall an unexpected hilarious and good drama filled wit a lot of twists.[/font]
Sammy Ruiz
100 Mile Rule Quotes
There are no approved quotes yet for this movie.
Discussion Forum
Discuss 100 Mile Rule on our Movie forum!