Walking Tall
(1973)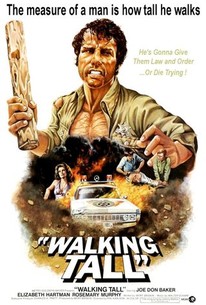 Movie Info
This film is the unabashedly manipulative story of real-life Tennessee sheriff Buford Pusser. Pusser can either be regarded as a tireless champion of justice or a baseball-bat-wielding hooligan. When the town baddies seek vengeance by killing Pusser's wife, the you-know-what really hits the fan!
Rating:
R
Genre:
, ,
Directed By:
Written By:
In Theaters:
On DVD:
Runtime:
Studio:
Cinerama
Critic Reviews for Walking Tall
Audience Reviews for Walking Tall
Of historic interest mostly, this true story was a jolt to the film industry at the time. Walking Tall forever reminded Americans that injustice was not to be tolerated. Of course, the American south was the setting, an easy target of injustice for audiences everywhere. [img]http://upload.wikimedia.org/wikipedia/en/thumb/4/4e/Buford_Pusser.jpg/220px-Buford_Pusser.jpg[/img] Buford Pusser died at 37 of mysterious circumstances Walking Tall is a 1973 American action semi-biopic film of Sheriff Buford Pusser, a former professional wrestler-turned-lawman in McNairy County, Tennessee. It starred Joe Don Baker as Pusser. Not a great film, probably a bad one, but the message was clear..... people, though kind and generous, don't like to be victims. A true revenge flick. [img]http://upload.wikimedia.org/wikipedia/commons/thumb/6/6c/Pusser-home.jpg/220px-Pusser-home.jpg[/img] Buford home and now museum Based on Pusser's true story, it was a combination of very loosely based fact and Hollywood revisionism. It has since become a well known cult classic (with two direct sequels of its own, a TV movie, A Real American Hero, and a brief TV series, also called Walking Tall). [img]http://www.movieposter.com/posters/archive/main/14/MPW-7354[/img] SEE the true story here: http://www.youtube.com/watch?v=epIr2nQhSxc&list=PL9C5D4B99079364CD [img]https://encrypted-tbn3.gstatic.com/images?q=tbn:ANd9GcSMJFB4nEZyIh1mkTjARMT_HFdBrCDCS7YSjc0FyknkuJICX4Yz[/img] Known for his big stick, Buford Pusser REVIEWS: 80% I loved it. I still want one of those sticks. 90% one of the best revenge movies of the era [img]https://encrypted-tbn0.gstatic.com/images?q=tbn:ANd9GcSl02--foH4GCMJ76PNQoGyvIhqaJNcLgP15zEI8Nq_yaTeQrSW[/img] NOTES: 1 The film only cost a half million dollars. It made 50 times that amount at the box office. 2 Pusser survived several assassination attempts. On February 1, 1966, Louise Hathcock attempted to kill Pusser during an on-site investigation of a robbery complaint at The Shamrock. Hathcock fired on Pusser with a concealed .38 pistol. Pusser returned fire and killed Hathcock. On January 2, 1967, Pusser was shot three times by an unidentified gunman. 3 Already a local hero, Pusser's "war" on the State Line Mob was brought to national prominence when according to Pusser, his wife, Pauline, was killed on August 12, 1967, during an assassination ambush intended for him. 4 Pusser died on August 21, 1974 from injuries sustained in a one-car automobile accident. Earlier in the day, Pusser had contracted with Bing Crosby Productions in Memphis to portray himself in the sequel to Walking Tall. That evening, Pusser, returning home alone from the McNairy County Fair in his specially and powerfully modified Corvette, struck an embankment at high speed, ejecting him from the vehicle. The car caught fire and burned. 5 Both Pusser's mother, Helen (1908-1987) and his daughter, Dwana (1961-) believed he was murdered. Dwana, who was a passenger in another car, came upon the scene of the accident moments later. No autopsy of Pusser's body was performed. As sheriff, Pusser survived seven stabbings and eight shootings. [img]http://i1.ytimg.com/vi/odH8scMjBVk/hqdefault.jpg[/img] CAST Joe Don Baker as Buford Pusser Elizabeth Hartman as Pauline Pusser Lurene Tuttle as Helen Pusser Noah Beery, Jr. as Carl Pusser Dawn Lyn as Dwana Pusser Leif Garrett as Mike Pusser Felton Perry as Obrah Eaker Rosemary Murphy as Callie Hacker Gene Evans as Sheriff Al Thurman Bruce Glover as Grady Coker Don Keefer as Dr. Lamar Stivers Felton Perry as Obra Eaker Pepper Martin as Zolan Dicks Ted Jordan as Virgil Button Red West as Sheriff Tanner Brenda Benet as Luan Paxton (as Brenda Benét) Arch Johnson as Buel Jaggers Russell Thorson as Ferrin Meaks Gil Perkins as 1st Bouncer Carey Loftin as Dice Player Warner Venetz as Stickman Gene LeBell as 2nd Bouncer Del Monroe as Otie Doss [img]http://farm7.static.flickr.com/6001/5928201984_063d62b6d6.jpg[/img] Mysterious death of 37 year old Buford Pusser Directed by Phil Karlson Written by Mort Briskin Stephen Downing John Michael Hayes (uncredited) Music by Walter Scharf Editing by Harry W. Gerstad Studio Bing Crosby Productions Distributed by Cinerama Releasing Corporation Release date(s) February 22, 1973 Running time 125 min. Budget $500,000 Box office $23,000,000 [img]http://farm4.static.flickr.com/3346/3191690425_50b6331dc1.jpg[/img]
monsieur rick
Forget the remake featuring The Rock,cause it doesn't even compare to the original. However,this was weirdly marketed as a right wing screed upon its initial release in 1973(and became a surprise runaway boxoffice hit especially a huge following within the drive-in theatre circuit in the South where some theatres ran it for over a year).Walking Tall was a really tragic,graphically violent post-noir film based on the life and times of Tennessee county sheriff Buford Pusser. However,Joe Don Baker gives a riveting and powerful performance as Pusser who was determined and hell bent to force of crime and corruption out of his town at great personal expense,not to mention taking on the syndicate(The Dixie Mafia). Directed with an intentionally crude force by Phil Karlson,one of the toughest filmmakers of the 1950's and 1960's. Here,the film's grimness doesn't let up and neither does the scenes of raw language and strong graphic violence that gave this film a strong influence of the racial stride and hatred that went on in the South. Interesting note about this picture...It was produced by BCP Productions which was Bing Crosby's production company(yes folks,Bing Crosby was still around in 1973)and theatrically released through Cinerama Releasing Corporation. The theme song was done by none other than the great Johnny Mathis. Elizabeth Hartman(plays Pusser's wife) and Noah Beery also star in this runaway boxoffice hit which was one of the sixth highest grossing films of 1973 behind "The Exorcist", "American Graffiti", "Enter The Dragon",and "The Sting". The success of Walking Tall spawned two sequels "Walking Tall Chapter 2"(1975),and "Walking Tall:The Final Chapter"(1977),a short-lived television series and two prequels starring Dewayne "The Rock" Johnson and Kevin "Hercules" Sorbo.
Mister Caple
Super Reviewer
I saw this after seeing the remake, and I have to say that this one is a lot stronger. I really liked it, it's realistic, even with the violence. The beginning is a little slow, but it doesn't matter, the rest is great. I really liked this movie.
Walking Tall Quotes
There are no approved quotes yet for this movie.
Discussion Forum
Discuss Walking Tall on our Movie forum!