Prey
(2006)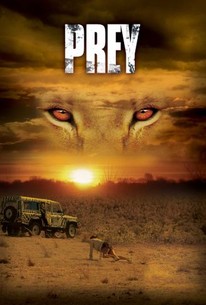 Movie Info
An American family on vacation in Africa are stalked by lions after becoming lost in a game reserve in director Darrell James Roodt's fierce, wilderness-based thriller. Bridget Moynahan and Peter Weller star.
Audience Reviews for Prey
They should've named it "Retarded film about lions that makes no sense and is really stupid."
Marcus Woolcott
Super Reviewer
Other than production value, Prey offers very little new to the killer animal genre. and memo to film makers. No one cares about your "growing relationship" between ANYONE. These are movies about KILLER ANIMALS. Stop spending precious screen time explaining emotion exposition that I don't care about.
Ken Stachnik
Super Reviewer
It's not just predictable, it's not just boring, it's not just a waste of time. It's all three. Remember this kids: Lions WILL fuck you up. No matter what. These aren't even genetically modified CGI lions. Just dull lions. Dull lions that are invisible until the very last second and can smash through windows. But wait. There is some drama here to. Moynahan and her new husbands daughter don't exactly get along. Can you imagine? I do hope they learn to get along. After all life and death situations tend to increase bonding by 67%. Some great dialogue as well such as "Out here YOU are the zoo" or something, I wasn't really listening. Just don't bother.
Luke Baldock
Super Reviewer
Prey Quotes
There are no approved quotes yet for this movie.