Troglodyte (Sea Beast)
(2009)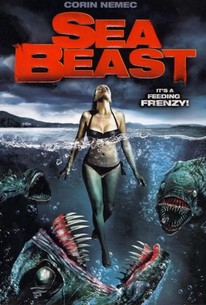 AUDIENCE SCORE
Critic Consensus: No consensus yet.
Troglodyte (Sea Beast) Videos
Troglodyte (Sea Beast) Photos
Movie Info
Mythic creatures from the darkest depths of the ocean emerge from the sea to feast on the residents of a sleepy bay village in this low-budget shocker starring Corin Nemec. A storm has blown into town, and now the sub-aquatic demons that once fed exclusively on sea creatures have developed a taste for humans. As the entire community is devoured screaming, it's up to a handful of survivors to destroy the creatures before they inherit the earth.
Rating:
NR
Genre:
,
Directed By:
Written By:
In Theaters:
On DVD:
Runtime:
Critic Reviews for Troglodyte (Sea Beast)
All Critics (1) | Fresh (1) | Rotten (0)
There is nothing new under the sea %u2014 but fortunately writer/director Paul Ziller knows how to create tidal waves out of whirlpools when it comes to delivering the monster movie goods.

Audience Reviews for Troglodyte (Sea Beast)
½
Hits just about every rehashed beat you'd expect from these modern-era Creature Features (except nudity) and doesn't do any of it smarter than the average bear.
½
My favorite one of the RHI Maneater films I've seen so far. Characters aren't all that good but the story is decent and the monsters are pretty nice. Decent ending.
Wes Shad
The fifteenth Maneater movie is Sea Beast.Sometimes called "Troglodyte" for a reason that I don't know.None the less,the monster in this movie is....I don't know.Wikipedia lists it as "Unnamed Amphibious Creature".Judging by the boxart,It seems to resemble a gigantic Catfish.If the directing wasn't so shitty,maybe I could identify it since i studied Oceanography when I was younger.The plot is standard.A town is being terrorized by a sea monster and a team of people who aren't well armed,trained,and armored people go out to stop it.I like it,it's simple,cliched I'll admit,but not difficult to follow unless you'd like to consider the camera a character.There are little to no plot threads I cared about to follow.But over all,the plot is nice.It's not a complicated mess like another Maneater movie with a sea monster (Shark Swarm). The acting isn't that funny.It's pulled off decently and delivers 99% standard acting and 1% laughs.So it's more good than laughably good.Now,surprisingly,it never becomes that over the top to complain about.That's good for the movie and it's score,and lame for me since I'm stuck in "praise the movie" mode.Joking (kinda) aside,the acting ain't all that bad and delivers what it should deliver.Is there anything I can complain about? No,because that Catfish looking thing isn't an actor.The movie essentially gives what it should and leaves it like that.It doesn't try to add in anything unique and fall flat on it's ass,only to be ridiculed by me.Of course,it could be a bit better.Extremely rarely could I find a little bit of under acting,but I think that's hardly worth a mention when the rest of your acting is impressive for a Sy-Fy Original.In a nut shell,the acting is solid and does what I'd expect ANY movie to do.Be good enough to legitimately pass. The directing is aggravatingly shaky.If your in a bad mood and put this on,it will not help.If your in a good mood,then you can let it pass.But I refuse to let such an aggravating camera pass.I can not follow this movie when the monster is attacking,the worst possible offense for a movie like this.At any other time,it's fine,but when the Catfish thing (It isn't a Catfish,I know,but I'm calling it that) attacks,I can just BARELY,it not at all,see it.Maybe it's the lighting,maybe it's me,but this thing seems to have seizures like there's nerve gas emitting from it that irritates it.There should be no reason for this,and it's the movies only flaw (Thankfully).But none the less,I really hated the directing,and it proves to be as good as stubbing your toe. The characters are stupidly funny.Now it's as good as it can get with a movie about a Catfish thing attacking a bay and a group of people that should be in a jungle with a Bengal Tiger attacking can get.These characters act stupid,the one that's suppose to be a sea expert seems more like he should be working at an Oil Rig and not at the sea! Hey bud,you scared of the giant Catfish monster thing? No? Well then your going to sadly survive.Unfortunately,as you might have guessed,the character are pretty predictable.While over shadowed by the fact the characters are stupidly funny,it's a flaw that sticks out if you look hard enough and have a decent eye.I thankfully knew people I hated (there called Extras!) died.Joking aside,and long story short,the characters pass.But it feels like they can barely pass.Beggars can't be choosey though,and not every movie is going to be Wyvern. The dialogue is nice.It fits well with the acting as being more good than unintentionally funny.It's,at it's best,solidly good.It's brisk,it's nice,and it doesn't rape your ears.Of course,there is a down side.Why is the character development sorta scattered? Did they forget about that? Really,I wouldn't have given a crap since I already knew who was and wasn't going to die.None the less,it's a slight flaw and with Sy-Fy,who gives a rats ass? Now whining aside,the dialogue is as good as it can be and being fair,I'll let the scattered character development pass,if only because the characters in the first place ain't that impressive.Of course,it would have been nice to see another higher scored Maneater movie,but that's being harsh.Over all,the dialogue is impressive when you consider that the Maneater Series has gone up and down like a roller coaster. The CGI is nice too.Consider that the last sea monster movie was a three hour piece of trash.The Catfish thing looks nice (Mine as well name him Scott),it moves decently,and it looks like it's aquatic/amphibious.Being fair,I think they got there data wrong and made a Catfish rather than,I dunno,Frogman.Joking aside (maybe?),the CGI is nice.It does,if you look sharply (sorta),like junk,but I remind this is RHI and Sy-Fy,not Roland Emmerich or Michael Bay.If it was,this would be an astoundingly giant piece of garbage.Or in Emmerich's case,Godzilla (2011).Yet again,joking aside,I honestly think the CGI is good.But it could seriously be better. I honestly think Sea Beast (Troglodyte if you wanna use that other title) to be a down fall from Wyvern,but a small one in some aspects.A large one in the directing,but the movie can support it with a solid plot,nice acting,stupidly funny characters,decent CGI,and brisk dialogue that doesn't feel like a drill to my ears.The directing though could be a helluva lot better.There is hardly any excuse for it's aggravating shakiness.I do,none the less,recommend Sea Beast if your bored and NOT in a bad mood,or the directing will get to you.If you are in a bad mood and willing to let anything slide,then just sit down and watch Sea Beast.You can do a lot worse and hey,a Catfish thing is a nice addition to a list of monsters.I score Sea Beast a solid 6 out of 10.The next Maneater Movie continued RHI and Sy-Fy's winning streak.
Chris Skoufis
Troglodyte (Sea Beast) Quotes
There are no approved quotes yet for this movie.
Discussion Forum
Discuss Troglodyte (Sea Beast) on our Movie forum!