Act of Violence
(1948)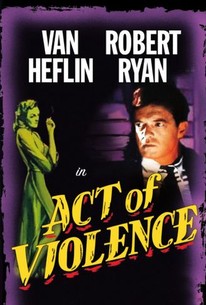 Movie Info
Act Of Violence lives up to its no-fooling-around title with a grim, exciting melodrama. Van Heflin is Frank Enley, a World War II veteran who has survived and been decorated with honors, while nearly all his comrades died in a Nazi prison camp. The one survivor, a crippled, revenge-crazed Robert Ryan, sets out to make Enley pay for the confession that sent his buddies to their deaths. To save his wife (Janet Leigh) from danger, Enley flees, meeting up with a kind-hearted hooker (Mary Astor) and ultimately hiring a hitman to kill his pursuer. The chase builds to a tense climax that does nothing to relieve the dark atmosphere of the rest of the film. With taut performances by Ryan and Heflin emphasizing its classic moral dilemmas, Act Of Violence remains a gripping thriller.
Critic Reviews for Act of Violence
Audience Reviews for Act of Violence
½
interesting scenario of sympathetic family man van heflin being stalked by a slightly crazed robert ryan for something bad that happened in the war. the ending wraps everything up a little too neatly in classic western style but with good suspense in getting there. mary astor plays an aging hooker at the same time she was playing the saintly mother in little women LOL
Stella Dallas
Super Reviewer
½
Act of Violence is a pretty forgettable and unremarkable noir that explains revenge as it's plot but doesn't really make you believe it. Robert Ryan is unusually dull here (picture a low rent Max Cady) and Van Heflin is just a warm body filling up screen time and keeping shots balanced. I liked where the story went for the second act but by the end it just seemed like 25 lbs of shit stuffed in a 15 lb bag. I just wasn't really buying it all. It's not all bad though, the lighting is brilliant and that final scene that was blatantly influenced by Westerns was well done--all up to the car crash. Look for a young, dopey Janet Leigh and and old, tired Mary Astor.
Michael Gildea
Super Reviewer
Act of Violence Quotes
There are no approved quotes yet for this movie.