Another Earth
(2011)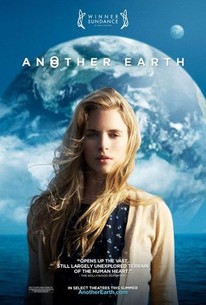 Movie Info
Rhoda Williams, a bright young woman accepted into MIT's astrophysics program, aspires to explore the cosmos. A brilliant composer, John Burroughs, has just reached the pinnacle of his profession and is about to have a second child with his loving wife. On the eve of the discovery of a duplicate Earth, tragedy strikes and the lives of these strangers become irrevocably intertwined. Estranged from the world and the selves they once knew, the two outsiders begin an unlikely love affair and reawaken to life. But when one is presented with the chance of a lifetime opportunity to travel to the other Earth and embrace an alternative reality, which new life will they choose? -- (C) Fox Searchlight
Rating:
PG-13 (for disturbing images, some sexuality, nudity and brief drug use.)
Genre:
Directed By:
Written By:
In Theaters:
On DVD:
Runtime:
Studio:
News & Interviews for Another Earth
Critic Reviews for Another Earth
Audience Reviews for Another Earth
A nice little indie that only nods towards some sci-fi conceptualization but actually is mainly about redemption, and it takes its sweet time getting to even that. It's not absolutely boring but certainly closely examines that possibility.
Kevin M. Williams
Super Reviewer
½
"Another Earth" boasts from very strong performances all around, and I am usually a fan of indie films that have a small scope with big aspirations, but this one felt a little too ambitious. As a young woman is about to get a full-ride scholarship, her life is flipped upside down as she is sent to prison for killing a man's wife and daughter in a car crash. Years later she falls for that man, creating very sensitive storytelling. By big issue with this film is that there is this entire other planet that is supposedly a duplicate of ours, while never focussing enough on that aspect in my opinion. By the end of the film, the big shocker did not surprise me at all and I felt a little empty handed. I do think this film is very well-written, well-acted, and extremely well-directed, but the technical aspects fail in a few areas. In the end, "Another Earth" is almost too ambitious for it's own good, but I really enjoyed it. It is recommended to people who like to think outside of the box instead of being outside of the box.
I think I love/hate Brit Marling for her scripts. But dang it, they always end so explosively. This one was rather too slow-paced for my taste though and the science is flawed.
Another Earth Quotes
| | |
| --- | --- |
| Rhoda Williams: | And he knows that this small sound will break him.He'll lose his mind.What's he gonna do?He's up in space,alone, in a space closet.He's got 25 days left to go with this sound.So the cosmonaut decides the only way to save his sanity is to fall in love with this sound.So he closes his eyes and he goes into his imagination,and then he opens them.He doesn't hear ticking any more.He hears music. |
| | |
| --- | --- |
| Rhoda Williams: | I don't want to eat the apple of cynicism |
| Rhoda Williams: | I don't want to eat the apple of cynicism. |
| | |
| --- | --- |
| John Burroughs: | What would you say if you met another you? |
| Rhoda Williams: | Better luck next time. |
| | |
| --- | --- |
| Rhoda Williams: | I don't really want to be around too many people, or do too much talking. |