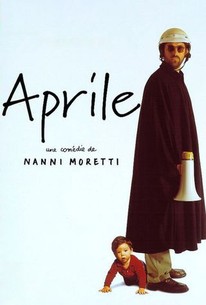 Aprile
1998, Comedy, 1h 18m
2 Reviews
500+ Ratings
Rate And Review
Movie Info
An anxiety-plagued director (Nanni Moretti) procrastinates over decisions on Italian politics, movies and fatherhood.
Audience Reviews for Aprile
"Aprile" is a deliriously funny autobiographical whimsy from Nanni Moretti with serious overtones like the plight of Albanian refugees. The movie is centered around his becoming a father. As the film wryly puts it, the mother is doing fine; it's the father who is having panic attacks. While being in the quarterfinals of picking the child's name, he is obsessing over what movies to see in order to properly influence his child's development. Surprisingly with the exception of "Underground," they are all Hollywood films and I remember also being none too thrilled with "Strange Days." At least, Moretti did not see "Braveheart" or that kid would be scarred for life. On a professional level, Moretti is chided for not directing many films but remember with filmmaking it is always quality over quantity. At least, he does not make commercials. His latest project is a 50's style musical which he abandons on the first day of shooting, in favor of a documentary about Italian politics. But soon it becomes abundantly clear that he may have bit off more than he could chew, considering the wide variety of viewpoints and news sources.(I understand most of it but wish I knew more about the independence movement that is mentioned.) For example, Moretti has a hard time just explaining to a French colleague how Silvio Berlusconi can legally own so many networks.(In fact, "Aprile" starts with Moretti surviving Berlusconi's election in 1994 by smoking a huge joint in the company of his mother, which reminds me of a story a friend told me about getting stoned when Reagan was elected in 1980.) Throughout, Moretti never gives up on making a better world for his offspring, even imagining taking to a soapbox in London's Hyde Park to be heard.
See Details