Armored
(2009)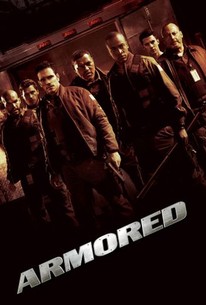 Movie Info
Vacancy director Nimród Antal helms the crime thriller Armored, starring Columbus Short as Ty, an armored truck guard who gets wrapped up in a heist scheme hatched by his godfather and mentor on the job, Mike (Matt Dillon). Along with a team that includes Laurence Fishburne, Jean Reno, and Skeet Ulrich, the group makes off with a shipment of 40 million dollars, but things start to unravel when one of them kills a homeless man as they stash the cash. Ty, who almost didn't sign on to the job but caved when his house was on the verge of foreclosure and his brother nearly taken out of his custody by Child Welfare, breaks from the plan and locks himself in one of the armored trucks until he figures out a way out of the deadly scenario. While Ty is trapped inside the truck with half of the loot, the rest of the crew has only so much time before they're reported missing, bringing life-or-death decisions to a heist where no blood was to be spilled. Things get further complicated when a patrol officer (Milo Ventimiglia) comes snooping around the warehouse district where the crew has been hiding. ~ Jeremy Wheeler, Rovi
People Who Like this movie also like
News & Interviews for Armored
Critic Reviews for Armored
Audience Reviews for Armored
½
Boy does this start crappy, I mean come on...a film trying to make security guards look cool haha I think they've made a film about almost every kind of uniformed job in some aspect at some point trying to make them cool or just send them up. I'm currently waiting for an action film about train drivers or maybe light rail/tram drivers haha. It starts off in the usual boyish, backslapping, act tough n look rough way which is totally hilarious and stupid. You meet the cast which is actually a good line up but boy do they ham it up in a bad way, in fact this could of been a Bay film had it been laden with over the top CGI. The plot is the usual predictable heist gone wrong so you know the outcome from the start, the only question is who dies first from the 'baddie' crew? To be honest it does get better near the end as the tension mounts but you can see miles off what's gonna happen. Predictable, cliched, dumb, over the top, totally unbelievable and unnecessarily macho at times, this is perfect Saturday night stuff when your drunk with your mates. But between me and you even then its still a pretty lame action flick.
Phil Hubbs
Super Reviewer
Brian De Guelle
Super Reviewer
½
I think this movie isn't getting the credit it deserves. It did have a few flaws and didn't have a lot of substance but all in all it was exciting to watch and I think it's an above average and unique heist movie. There was a bit of character development with great direction and amazing cinematography and lighting. It also held a strong moral that proves that people can go from being best friends to enemies through their greediness. Ultimately, for a low budget thriller, I was pleasantly surprised by Armored because it was believable and wasn't for that matter, dumb.
Directors Cat
Super Reviewer
Armored Quotes
There are no approved quotes yet for this movie.