Assassin's Creed
(2016)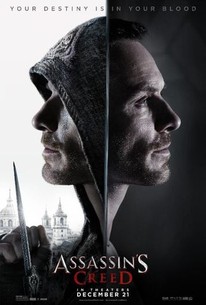 TOMATOMETER
AUDIENCE SCORE
Critic Consensus: Assassin's Creed is arguably better made (and certainly better cast) than most video game adaptations; unfortunately, the CGI-fueled end result still is still a joylessly overplotted slog.
Movie Info
Through a revolutionary technology that unlocks his genetic memories, Callum Lynch (Michael Fassbender) experiences the adventures of his ancestor, Aguilar, in 15th Century Spain. Callum discovers he is descended from a mysterious secret society, the Assassins, and amasses incredible knowledge and skills to take on the oppressive and powerful Templar organization in the present day. ASSASSIN'S CREED stars Academy Award (R) nominee Michael Fassbender (X-Men: Days of Future Past, 12 Years a Slave) and Academy Award winner Marion Cotillard (The Dark Knight Rises, La Vie en Rose). The film is directed by Justin Kurzel (Snowtown, Macbeth); produced by New Regency, Ubisoft Motion Pictures, DMC Films and Kennedy/Marshall; co-financed by RatPac Entertainment and Alpha Pictures; and distributed by 20th Century Fox. ASSASSIN'S CREED opens in theaters worldwide on December 21st, 2016.
News & Interviews for Assassin's Creed
Critic Reviews for Assassin's Creed
Audience Reviews for Assassin's Creed
½
A cast to die for and a couple of set action pieces do not make a whole movie as this outing well proves, although Cotilliard could melt a glacier with her eyes.
Kevin M. Williams
Super Reviewer
Assassin's Creed is a pure waste in every sense of the word. They waste an entire video game franchise, they waste an arsenal of heavyweight actors by giving them nothing to work with, they waste 125 million dollars paying all these people to be in the movie, and they waste one actually decent chase/action sequence on this poorly written junk. If you were looking for Assassin's Creed to be the tide that turns the sea of terrible video game movies, sorry to say, you will still have to wait because all this movie is good for is being added to the list of top 10 worst video game adaptions.
Jacob Smith
Super Reviewer
Finally it's here, An Assassins Creed movie after so many years of rumours that all started not long after the first Assassins Creed game which was back in 06/07, And although this film may have it's flaws it's still a fantastic film, It uses the story from the first game but has different characters and a new look for example the Animus was so much more fun than in the game as it got Michael Fassbender to do more than just lie there like I thought he would, The action was great with some fun stunts and fight scenes, The effects were great most of the time, I can't comment on the 3D as I watched the 2D version, In the hour and 45 minute run time we probably only have 30 minutes of seeing the assassins in action as most of the story like the games was over told and also like the games we never get a satisfying ending as it always finishes with questions and the odd twist, If you're a true fan (Like Me) of Assassins Creed then you should love it, Ignore critics as I bet 75% of them have never played an Assassins Creed game in their life so their reviews don't count.
Jamie Clarke
Super Reviewer
Discussion Forum
Discuss Assassin's Creed on our Movie forum!