Bad Hair
(2014)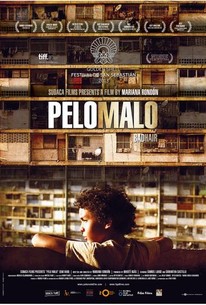 Movie Info
In PELO MALO, Junior is a nine-year-old boy who has stubbornly curly hair, or "bad hair." He wants to have it straightened for his yearbook picture, like a fashionable pop singer with long, ironed hair. This puts him at odds with his mother Marta, a young, unemployed widow. Junior, Marta, and his baby brother live in a large multi-family building. Overwhelmed by what it takes to survive in the chaotic city of Caracas, Marta finds it increasingly difficult to tolerate Junior's fixation with his looks. The more Junior tries to look sharp and make his mother love him, the more she rejects him. His paternal grandmother, a witness to this rejection, asks Marta to give her the boy so that he can look after her. Marta refuses and tries to correct her son's obsession by "setting an example," a cruel moment which was meant to be a lesson. Junior finds himself cornered, face to face with a painful decision.(C) FiGA Cinema Tropical
News & Interviews for Bad Hair
Critic Reviews for Bad Hair
Audience Reviews for Bad Hair
Set in Venezuela during the period when the president, Hugo Chavez, was ill and dying with cancer, this fine film explores issues of identity - national, racial, sexual, familial. "Bad hair" is what you have if you have some African roots; the desire to wipe those roots out by hair straightening is virtually a national obsession, especially for Venezuelan women. And there's the rub - it is a 9 year old boy, Junior, who finds himself determined to defeat the curls that evidence the long-gone liaison that his mother, Marta, had with a man of black origins. Marta worries that the apparently feminine interest in his appearance is a sign of incipient homosexuality - and it may well be. The film tracks the battle of wills between mother and son, and in the process sheds light on the racism and grinding, no-way-out poverty of the masses who live in Caracas' high rise housing estates. The photography is well done, and there is not so much of the heavy symbolism beloved of Latin-American cinema, but it is a hard watch. The second of two sex scenes particularly is particularly uncomfortable, as Marta tries to "redirect" her son's burgeoning sexuality by effectively forcing him to see her with her boss - an encounter which is in itself unemotional, economic, abusive/manipulative and crude. The love she showers on her baby, while in a state of war with her older child, and her own fragile, hunted temper and mood swings are brutally and depressingly portrayed. The awful thing is that it is probably realistic; you feel you are watching real people. Samuel Lange as Junior in particular is absolutely stunning. But for all of this, there are many lighter moments. The film is not all misery. And, even where Marta seems to have won some battles, you are left wondering how, not if, Junior is going to win the war.
Andrew King
An irregular film that suffers from the contradictory behavior of its two main characters but has a poignant ending, even if the mother played by Castillo seems like a telenovela villain in urgent need of psychiatric help - although I do know that the world is full of people like that.
Carlos Magalhães
Super Reviewer
½
Life can be seen from the point of Life can be seen from the point of view of a kid as innocent, unique and special. Doesn't matter of how poor or rich a family can be, the kid will always dream and wish something out of the ordinary. For Junior (Samuel Lange Zambrano) his long dream was to get his hair straight ready for his school picture. The story takes place in a poor area of Caracas during social turmoil, when a president is facing illness and the followers of the president are doing sacrifices for his health. This backdrop is a the social scenario of a Junior's mother Marta (Samantha Castillo) constant struggle to maintain a two kids from a murdered father at any cost, but also her homophobic feelings about Junior. The film explore political messages and social problems about kids living in poor areas, who dream big, but those dreams are slashed out but broken promises and sad realities. The story is powerful, with strong messages, about tolerance, respect and society morals about people who think different.
Gustavo Bernal
Bad Hair Quotes
There are no approved quotes yet for this movie.
Discussion Forum
Discuss Bad Hair on our Movie forum!