The Blue Lagoon
(1980)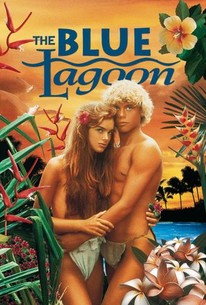 Movie Info
In this 1980 version of the oft-filmed Henry Devere Stackpoole novel, the basic story remains unchanged. Two very small children, a boy and a girl, are shipwrecked on a lush tropical island. When they grow into teen-hood, they also fall madly in love.
Critic Reviews for The Blue Lagoon
Audience Reviews for The Blue Lagoon
I think I loved more the concept of than what actually happened in the film, but it's a good effort and interesting to watch.
This movie is cute and sweet for the most part, but has a bunch of holes in the story. For one thing, there's a group of native islanders on the other side of the island they're marooned on and they never even notice the two kids? Also, they have a boat, why don't they just fill it with food and stuff and try to make it back to civilization? Plus, I hated the end. The movie is okay, and Atkins is cute, so it's not too bad, but it's not a good movie either.
Brooke Shields and Christopher Atkins star as two children shipwrecked alone on a tropical island..
The Blue Lagoon Quotes
| | |
| --- | --- |
| Richard: | Take it back! Take back what you said! |
| Emmeline: | I've seen it all! What happens after you've been doing it in a long time? |
| Richard: | Shut up! That's not fair peeking! I don't peek on you! |
| Emmeline: | That's a lie! You're always staring at my buppies. |
| Richard: | Only because they look so funny! You know what you look like now, Em? You look like one of those pictures that Paddy had in his drawer. One of his hootchie-cootchie girls! |
| | |
| --- | --- |
| Emmeline: | (imitating Richard) It doesn't scare them off unless I can spear them! |
| Emmeline: | (throws an umbrella that acted as the spear) |
| Richard: | Aw, spear you! |
| | |
| --- | --- |
| Paddy Button: | (chasing Richard and Em) Come back here and put your clothes on! |
| Young Richard: | I don't wanna wear my old britches! |
Discussion Forum
Discuss The Blue Lagoon on our Movie forum!