Body Melt
(2003)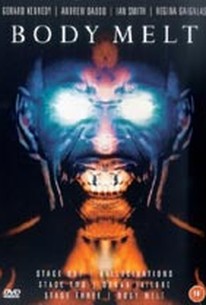 AUDIENCE SCORE
Critic Consensus: No consensus yet.
Movie Info
The owner of a posh Australian health clinic uses the residents of a small suburban community named Pebble Court as a test market for some revolutionary new vitamin supplements. Unbeknownst to the locals, the pills have some particularly unpleasant side effects, as illustrated by the messy death of her boyfriend after he discovers the truth and is given a lethal dose. Before long, the locals are beginning to mutate, melt, explode, or turn into deformed psychopathic monsters. As Pebble Court becomes a miniature apocalypse, a pair of detectives plod their way through one bloody massacre after another before finally stumbling onto the diabolical Dr. Carrera (Ian Smith), inventor of the lethal vitamins and numerous other medical disasters. The odd, disjointed and episodic feel of this film is due to the script being assembled out of four separate stories by director/co-writer Philip Brophy. Without a solid framing story or sympathetic lead to give them cohesion (aside from the obvious premise that Carrera's drugs are not particularly healthy), the disparate vignettes fall apart faster than the doctor's victims. That said, there is enough wry humor, frantic pacing and boisterous gore effects to sustain horror audiences' interest for the abbreviated running time. ~ Cavett Binion, Rovi
Critic Reviews for Body Melt
Audience Reviews for Body Melt
½
Something along the lines of Bad Taste and Brain Dead, Body Melt wasted it's super tiny budget on repulsive effects but not on much else. There are plenty of humorous bits here and there, completly random moments but it's just a succession of loose threads that are not that interesting to begin with, bringing to surface some rather boring moments and a lackluster conclusion.
Francisco Godinho
Super Reviewer
"Dumb Films Presents" is right... Vimuville, some supplement with unexplained gross-out side effects, is supplied to many. This film is filth, but not because of the gross-out.. The rather dull, yet still somewhat amusing gross out bits of this film are the strong point... And they're not even good. What's worse? The low budget feel, the characters, the artificial atmosphere, the dialogue, the lack of the plot... You can consider this film the poor man's version of Dead Alive (another film I'm admittedly not to big a fan of). It has the same goofy kind of style, but it is done here much worse. If you like films to be so insanely ridiculous, then this is for you, but it certainly wasn't for me... To me this isn't "It's so bad it's good", it is rather, "It is so bad, it's really bad."
Horrific Reviews
Super Reviewer
½
Gross-out comedy-horror with social satire undertones poking fun at obsessive health and clean-living freaks who fall prey to experimental drugs developed by a health farm which have disgusting side-effects. It's all jolly good fun but wasn't quite as funny as it could have been but there's plenty entertaining moments to enjoy. The make-up effects are brilliant and disgustingly OTT, full of blood, ooze, pus and melting skin... not a film to be eating lunch with! So it's a recommended watch, a bigger budget remake or sequel would be great!
Body Melt Quotes
There are no approved quotes yet for this movie.