Book of Shadows - Blair Witch 2
(2000)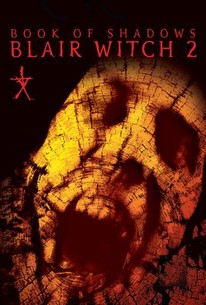 TOMATOMETER
AUDIENCE SCORE
Critic Consensus: This sequel to Blair Witch Project is all formula and no creativity, mechanically borrowing elements from the original and other horror movies.
Book of Shadows - Blair Witch 2 Videos
Book of Shadows - Blair Witch 2 Photos
Movie Info
Adventure and fantastical treasure await a young man on a quest to discover an ancient book whose contents hold the secret to life in this adventure tale from director Rob Reiner and scribe Zoe Green. ~ Jeremy Wheeler, Rovi
Rating:
R (violence, language, sexuality and drug use)
Genre:
Directed By:
Written By:
In Theaters:
On DVD:
Runtime:
Studio:
News & Interviews for Book of Shadows - Blair Witch 2
Critic Reviews for Book of Shadows - Blair Witch 2
Audience Reviews for Book of Shadows - Blair Witch 2
Kim: Something happened to us in the woods... something evil.  "The terror continues..." Book of Shadows: The Blair Witch 2 has to be the worst horror sequel I have ever seen. It's worse than Jason X, it's worse than Halloween 3. In saying that, I'm also sort of happy in a way, that Book of Shadows was so terrible. If it had been even a slight success, there would have been a crazy amount of additional sequels dished out. As it is, this killed the sequels and we haven't been shown any for 12 years. Thank God.  Book of Shadows took everything that was cool and terrifying about the original and threw it out the window. The first relied on its small budget as a way to scare. Instead of showing us all the details, they left it to our imagination. This one decides to show just about everything. They show us tons of blood, in a schizophrenic and hectic sort of way. We are shown hallucinations of what characters think is happening and everything seems like it is passing over everything else. It's like a 3 year old with a coloring book. Initially you can see what the picture is, but after they've scribbled on it with ten different colors in incoherent ways, all that's left is a mess.  This takes place shortly after the hysteria of the first film. At the start we are shown clips of late night shows and critics speaking about the film. We are given a fake news broadcast that is showing us how everyone is overrunning the town of Burkittsville. Locals say it isn't true, and the sheriff tries to keep all the tourists out of the woods. One local takes it upon himself to cash in on the hysteria, creating the Blair Witch Hunt. He takes some tourists out to some spots and they party. They wake up remembering nothing. All their stuff is thrown about and they have weird marks on their flesh. They then retire to the locals house, which is a factory, in order to decode what has happened with their cameras. Don't watch it. I love the first one, but this is just a waste of time. It adds nothing to the Blair Witch story and only serves as a film Artisan thought they could make some money off of. Once again, Thank God they didn't.
Melvin White
Super Reviewer
One of the absolute worst films I've ever seen. The saddest part is that I was among those poor, poor fools who actually paid to see this tripe in the theater.
Randy Tippy
Super Reviewer
Good, but at times confusing. The ending is also rather abrupt. It's an interesting take on the media hype surrounding the first, but its success as social commentary is limited. Take it as another B-movie style tie in and it will satisfy you more. Also, Kim Director. Wow.
Book of Shadows - Blair Witch 2 Quotes
| | |
| --- | --- |
| Kim Diamond: | Something happened to us in the woods... something evil. |
| | |
| --- | --- |
| Kim Diamond: | I Didn't Do That |
| Kim Diamond: | I didn't do that. |
| | |
| --- | --- |
| Stephen Ryan Parker: | Fucking witch |
| Stephen Ryan Parker: | Fucking witch. |