Breathe In
(2014)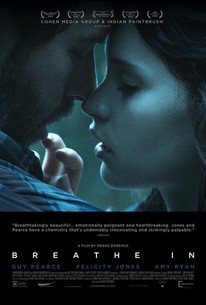 TOMATOMETER
AUDIENCE SCORE
Critic Consensus: Breathe In's plot never quite sparks the way it should, but it remains thoroughly watchable thanks to strong performances from Felicity Jones and Guy Pearce.
Movie Info
When a foreign exchange student arrives in a small upstate New York town, she challenges the dynamics of her host family's relationships and alters their lives forever. (C) Cohen
People Who Like this movie also like
News & Interviews for Breathe In
Critic Reviews for Breathe In
Audience Reviews for Breathe In
½
A fairly mediocre melodrama, Breathe In is formulaic and clichéd. The story follows a high school music teacher and his family as they take in an exchange student from the U.K., but things get complicated when he starts to feel a connection with her. Guy Pearce and Felicity Jones give good performances, but they don't really have much to work with. And, the plot is incredibly trite and predictable; having no originality to it. However, the directing adds a bit of subtext and atmosphere. Yet overall, Breathe In is a stereotypical forbid love affair type film that follows the usual tropes.
Dann Michalski
Super Reviewer
½
"Breathe, breathe in the air; don't be afraid to care!" Oh, please, people, you know that Pink Floyd was going to be worked in there somewhere, because it's not like I was going to reference Lucie Silvas' "Breathe In", because that is one corny pop number, not so much because no one knows the corny pop number in question. If you know about this film, then you probably know about that song, because this film is so low in profile that it features a cameo by Kyle MacLachlan, whose closest thing to a high-profile art project in recent years has been a recurring appearance on "Portlandia". Well, "How I Met Your Mother" is just so blasted good of a show to be network-based that we may as well consider it an artistic triumph, which would be cool with me, because I get a lot more fun out of and dramatic effectiveness from it than I do art films like this. No, this film is adequately engaging, I suppose, but even Drake Doremus' titling is kind of limp, because before this film, "Breathe In", he did "Like Crazy", and before that, well, I'm not going to say what he did, but rest assured that the title was kind of lazy. You have to at least give the guy credit for trying to get a little more sophisticated with his subject matter, because "Like Crazy" was pitched as the trite youth romantic melodrama that it turned to... not entirely be, whereas with this film, you've got classical musicians, affairs with much younger women, and melodramatic family dysfunctions. Jeez, no wonder the UK is getting a piece of this American project before everyone else, because this is kind of a stuffy premise, which does admittedly make for a decent film, if you can, well, "breathe" through the problems. I joke about how, with this effort, filmmaker Drake Doremus really is going all-out in trying to up his artistic integrity and tastes, but there are some artistic liberties taken here, and not all of them fit, as the film will follow a traditionally focused storytelling path, then suddenly switch to moments of near-abstract lyricism that aggravate because of their inorganic incorporation, alone, save their marking highlights in the film's consistency in dragging. Even when its structuring doesn't devolve into deliberate meditativeness upon more-or-less nothing, this film's script is essentially aimless in its being so dragged out by unfocused and repetitious set pieces which stiffen pacing, ultimately halted by lapses in atmospheric momentum, of which there are many. As if it's not enough that Doremus, partnered with Ben York Jones, keeps things nice and limp in his script, his direction is often too quiet for its own good, placing a sober focus on pacing that, during those many lapses in material, dull things down. Bite is there when Doremus gets the meditative storytelling right, but when he doesn't, it's impossible to ignore the aforementioned draggy spells in material, as well as how, for that matter, there isn't all that much material to intrigue with meat through all of the dry storytelling, as this plot of limited momentum goes driven by characters of limited intrigue, limiting potential whose interpretation doesn't even give you the courtesy of consistently unique storytelling. More than it's not all that meaty, this film's narrative isn't all that refreshing, hitting trope upon trope as it drags along its stylistically uneven, draggy and almost inconsequential path, until it loses its grip on suspense while the grip of predictability tightens around it, further retarding the momentum of what is, in a lot of other ways, a limp drama. I wish there was more meat to this drama, I really do, because there are some very effective occasions, but that's all they are: occasions, for intrigue, no matter how present, goes limited on paper by a story concept that is limited in meat, and by storytelling that is even more limited in consistent bite. Nevertheless, where this film could have admittedly easily collapsed into mediocrity under the weight of its artistic missteps and overambitions, it gets by on its highlights in substance and consistency in style. The indie cheapness to the camera, lighting and other photography factors hold back a fine taste in visual style, but John Guleserian's cinematography is never less than handsome, with a sometimes hauntingly icy bleakness to coloration that adds to visual lyricism when artistic storytelling is utilized, yet doesn't do so as beautifully or as effectively as the music. When classical masterpieces are played with, they're not too obvious and are beautifully performed, while the original score by Dustin O'Halloran delivers its own modern classical subtlety and grace whose delicacy is not only aesthetically moving, but complimentary to the subtle tonal layers of this drama. Artistic value, when really played upon in this stylistically uneven storytelling, is often blanding, maybe even sentimental in its being carried away, yet the visual and musical styles behind artistry are consistently beautiful by their own right, with times in which Drake Doremus, as director, uses them with genuine tastefulness in order to, if you will, "breathe" life into this narrative. Even in concept, life is lacking within this narrative, although there is still a good amount of potential in this study on how a family handles a mysterious stranger's emotional and sexual influence on flawed people of integrity, and no matter how much the film formulaically and unevenly meanders along a still-reasonably promising path, it's hard to deny some degree of intrigue. Doremus' and Ben York Jones' script doesn't make denial that much easier, being overblown and conventional, but still tight enough in its taking time to meditate upon subtle characterization to draw you into the depths of this character-driven drama, which is further carried by the aforementioned highlights in Doremus' direction, as well as by solid character portrayals. Most everyone plays his or her part fairly well, and that particularly goes for the leads, with Felicity Jones capturing the ambiguity and, to a certain degree, seductiveness of a quiet, yet intriguing young lady with questionable feelings, while Guy Pearce proves to be just, if not more effective in an assured portrayal of a good man whose fear of losing youth drives him to contemplate, if not act on deeds that aren't particularly respectable. Outside of the strong visual style and outstanding musical style, the film's strengths are subtle, whereas the flaws are considerable, but subtle highlights ultimately go a fair distance in crafting an adequate amount of intrigue to a still rather underwhelming drama. When the breathe is finally released, the film collapses as underwhelming, maybe even forgettable under the weight of an inconsistently stylized, yet still consistently draggy, blandly dry, and formulaic telling of a narrative of limited meat, yet lovely visual style, an outstanding soundtrack, and a fair degree of juiciness to storytelling and acting - especially by Felicity Jones and Guy Pearce - make Drake Doremus' "Breathe In" a decent and sometimes compelling meditative drama, through all the limpness. 2.5/5 - Fair
Cameron Johnson
Super Reviewer
½
Director Drake Doremus is well known to the Sundance Film Festival audience. This is his third film to play at the festival. This love story/drama is starring Guy Pearce, Felicity Jones, and Amy Ryan. Written by Drake Doremus and Ben York Jones, the story about a foreign exchange student who arrives in a small upstate New York town and challenges the dynamics of her host family's relationships, altering their lives forever, deserves praises. Especially, if you know that Doremus makes his movies - he is using the same technique as on Like Crazy (his most popular film), Doremus and co-screenwriter Ben York Jones prepare a detailed outline for each scene without dialogue, and then they rehearse with the cast for several weeks while they improvised the words. Doremus explains why he does it this way: "I start with a 60-page outline that basically reads like a short story, filled with backstory, the emotional beats of the scene, subtext, plot points, but very little dialogue. ... Every take, the scene gets more and more distilled. The first take is 15 minutes, the second take is 10, and before you know it we get down to the two-minute scene we need. ... It is exhausting! But that's a great word to describe it: we exhaust every possibility until we realise what it needs to be, and when you get down to that point, the actors just don't care anymore. There is no performing for the camera; there's just being, and you just gotta focus on being in the moment." [img]http://upload.wikimedia.org/wikipedia/en/thumb/e/e1/Breathe_In_2013_Poster.jpg/220px-Breathe_In_2013_Poster.jpg[/img] I loved it because everything runs naturally, without faking anything, smooth and efficient scenes are following each other telling the story the best possible way. The only thing I really don't like about the director Doremus is his "intimate" style which made him famous! His use of hand-held cameras, often right in the actors' faces, creating the illusion that we're "invading private moments" in the lives of the characters, simply bothers me, because can be done so much better. I don't think that his ability to draw out performances from his actors that are natural and unaffected would change with cameras which are steadier. This way from time to time you have those shaky moments recorded from behind the curtain, or something like that, and you wonder why! Excellent acting from the main characters! You'll be wrapped up in the emotions of the young girl and the middle aged man and following them to the end experiencing captivating, intense, and ultimately heartbreaking moments. You will have a chance to enjoy every shot - and all the shots are perfectly combined to serve the actors and story to great effect! Don't miss it.
Breathe In Quotes
| | |
| --- | --- |
| Sophie: | I don't know. It's hard to know how to be like truly free. And whether that's even a good thing. |
| Keith Reynolds: | Maybe boundaries are there for a good reason. Structure. |
| Sophie: | You sound like a teacher. |
| | |
| --- | --- |
| Sophie: | Don't Let Fear Become Your Profession |