Camp Takota
(2014)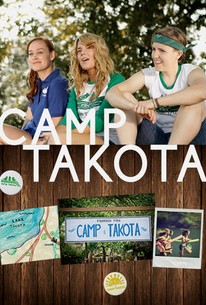 AUDIENCE SCORE
Critic Consensus: No consensus yet.
Movie Info
Rating:
NR
Genre:
Directed By:
Written By:
Runtime:
Audience Reviews for Camp Takota
The script is so unoriginal that I was calling out every plot turn five minutes before it happened, and was telling the punch lines to most of the jokes in time with the characters. Speaking of the characters, all of them are pretty paper thin, and don't hold up well over the length of the film. I just couldn't have been less interested.
Nathan Martin
½
If I said that the film Camp Takota stars the holy trinity, most people would think that the film would be related to religion, however this independent film is far from that. A quick Internet search revealed that there is another holy trinity, the holy trinity of YouTube. Real life best friends Grace Helbig, Hannah Hart, and Mamrie Hart, who are popular comedic You Tube creators, are the three women who are known as the holy trinity. This trio also stars in Camp Takota, which is a film that is about the friendship of three women working at a summer camp. The writing of the screenplay for Camp Takota adds and takes away from the quality of the film. These women do not have previous acting experience, and it is noticeable, but they each play their character well. Camp Takota is an enjoyable, heart-warming comedy for it's cute storyline, powerful comedic script, and character chemistry. The film starts out with Elise (Grace Helbig) getting fired from her job and catching her fiancé cheating on her. As a result, Elise drunkenly accepts an offer to return to her childhood summer camp as a counselor. When Elise arrives at Camp Takota, she is reunited with her camp best friends, Maxine (Mamrie Hart) and Allison (Hannah Hart), who both work at the camp. The story goes on to develop the three girls' friendship, while revealing that the future of the camp is threatened. Through out the story, Camp Takota reflects upon being true to yourself and doing what is best even if it seems like it is a mistake. The writers for the screenplay tried to accomplish a lot for this film, but did not get everything quite right. I think that the writers for this film intended Camp Takota to be a movie enjoyable for all audiences, but some of the content is not appropriate for everyone. The film revolves around a storyline that some adults might think to be too childish for them. However, with lines like "suck me," uses of alcohol, and sexual jokes, I do not think many parents would allow their child to watch this film. Even though the writers did not effectively target a large audience, they created a story that is enjoyable. They cleverly wrote subtle puns and one-liners in the overall humorous script. There is a lot of comedy in this film, but it is the only thing the writers were good at. The scene where Maxine was giving a speech about why the camp should be saved stood out as an example of the power of the writers. Maxine's words about camp being a place where kids can express creativity and make memories, even made me wish that I could help save the camp. This power of the writers adds a lot to the movie. As Camp Takota was an independent film and not even one member in the holy trinity is a professional actress, I was not expecting too much from the acting in this film, but Grace, Hannah, and Mamrie did a good job of bringing life and dimensions to the characters. At first, it seams that Grace uncomfortably acted the role of Elise. However, by using minimal facial expression and bad posture, Grace added to the dry humor and awkwardness of Elise. Hannah used expression in her forehead to make the emotions that Allison felt more realistic. When Allison was disappointed at Elise, I could see the disappointment on her face, as well as in her voice. Hannah also used body language to accompany Allison's sense of humor. Out of the three, Mamrie gave the best performance. Mamrie often used big arm and hand gestures, along with sassy facial expression to show Maxine's enthusiasm for camp. The interactions between the three actresses brought real chemistry to the screen, proving that professionals are not needed for a film to be good. Overall, I would recommend this film for anyone who likes an uplifting comedy. The film gives the audience a message of what it means to be a true friend, while showing that fighting for something you believe in is important. The true friendship between the three actresses gave a unique type of chemistry to the performance. Camp Takota is not a real place, but it left an impression in my heart.
Samantha Grace
½
Super cute, funny, and awesome. the acting was great; especially Mamrie Hart. Even for a low budget film I liked it way better than most the comedy films I have seen the last couple of years. The puns and jokes were perfect , which I would except from the trio (Mamrie Hart,Grace Helbig, Hannah Hart).
sam smith
Discussion Forum
Discuss Camp Takota on our Movie forum!