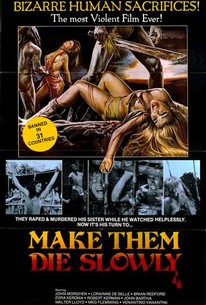 Make Them Die Slowly
1981, Horror, 1h 33m
5 Reviews
5,000+ Ratings
Rate And Review
Make Them Die Slowly Photos
Movie Info
A cocaine dealer and an anthropology student fall victim to cannibalistic Colombian natives.
Audience Reviews for Make Them Die Slowly
Yet, another italian cannibal flick that actually has a pretty good idea at it's basis, for what could've been a very good exploration of the city boys vs. the tormented tribe but it quickly descends into exploitation territory with gratuitous animal violence, tasteless deaths and atrocious acting. It's also one of those movies that "steals" scenes and music from other movies. Literally stolen! They are cut from other movies and inserted here for god knows what reason. A total miss despite the good idea behind it.

The last time I saw anything with the word "Cannibal" in it I felt asleep around four times before completing the film. As for Cannibal Ferox I will say is not quite as boring as Cannibal (2010), but it's not really all that shocking for something in the Cannibal genre or "video nasties" variety. Cannibal Ferox is about three friends out to disprove cannibalism meet two men on the run who tortured and enslaved a cannibal tribe to find emeralds, and now the tribe is out for revenge. The film is a poor man version of Cannibal Holocaust. The opening theme, I kid you not, is very misleading and lead me to believe that I had accidentally bought a porno. Also, we see a walking from the hospital to his apartment only to be killed within the first four minutes. You know a movie is bad when the opening credit itself is pointless. Another problem with the plot is a lack of characterization and exposition. It switches between characters, locations, and plot lines with no real focus. Why do we need to know a blue butterfly landing on a boat will bring bad luck and then see a man eat a butterfly? The movie does has many ridiculous moment! The dialogue is plain awful, but the delivery of these lines makes them unintentionally hilarious. You will laugh when you hear "They tied him to a stake, and castrated him with a machete. And then they, ate his genitals". The movie fails to send a message since it's essentially tries to be Cannibal Holocaust, but fails at it. With no characters nor interesting plot you will have very little reason to stick around. The acting is really terrible from everyone. The fact that I was able to laugh at a persons dead body is sign of directionless actor. The editing and music in general could use some serious work. How am I suppose to take a cannibal dying seriously when the transition has disco porn music playing. The movies tries to shock you by showing an actual skinning of alligator and killing of hog, but cuts way so we clearly see it and often from far away for these killings. Despite a man getting the top of his head cut off with cannibals presuming to eat his brain and a nude women getting hooked into her breast and hanged there's only one scene that's uncomfortable. The only scene that's cringe worthy is the "castration scene" and this is the third time I saw a castration which does no get easier watch. The special effects are somewhat good, but some of them fall notably flat. One being a scene where a character leg is getting by piranhas, but you can clearly tell the piranhas are swimming around his leg. It tires to shock to you, but the fact that my a friend of mine got a "surprise boner" in a movie about in a movie about cannibalism is a trait of shocking film. Cannibal Ferox could be best classified as a porno gone horribly wrong and turning into a cannibal movie. It falls flat in every area and is a forgotten piece of cinematic history.

Cannibal Ferox is yet another, sleazy and extremely gory cannibal film. The film is excessively gory, violent and should appeal to gore fans and grind house film fans. This film is meant to shock and disgust and it does that in spades. As far as cannibal films are concerned, this film doesn't this film doesn't offer anything new or exciting. The film just plays out for gross out shocks and that's about it. I've gotten used to this type of cinema, and I really wanted to enjoy this. However Cannibal Ferox just doesn't deliver the thrills that so many other exploitation classics had done so well. Umberto Lenzi basically does what Ruggero Deodato did with Cannibal Holocaust, which was a far superior film. Although entertaining, I just felt that Cannibal Ferox didn't do anything memorable, and it was basically the same old formula at work. This film will surely appeal to fans of the genre, but is definitely not a film for the faint of heart and a lot of it is hard to take. After this film, there haven't been many cannibal films that have tried doing to something refreshing. Everything has been done before, and though high in violence content, this film doesn't horrify the Cannibal Holocaust did. A good film, but it doesn't have a hint of originality, and it's clear that the cannibal genre quickly lost its shock value, as this film like the ones that came bore it relied on the same old things that have made this genre of film notorious. For what it is, it should appeal to exploitation film fans, and despite the fact that it uses the same gross out tricks, there's a good cult classic here.

My 3rd favorite movie for some unholy reason. An Italian shocker that's much less better then cannibal holocaust movie. To me that was just amazing this is still awseome though. Simple story. A bunch of friends go into the jungle to disprove that cannibalism was never real and "Man Eat Man" was just bull shit all along. Then they run into Mike Logan who has enslaved a native tribe and plans to make them dig for emeralds and grow cocaine but only to have the younger natives come home from fishing and find the students and Mikes gang. They enslave both even the ones who didn't do anything and plan to "Make Them Die Slowly" They Cut and torture them to the limits of pain. I think the funky score was just cool that real 1970s music playing at the start when he walks down the street of NYC. And then flicks to the jungle were this heavily scary yet exotic at the same time starts playing. I think Mike Logan is the best character ever in any film all he does is sniff cocaine and he quotes "Ar this is the shit doesn't give you brain damage doesn't slow you down just makes you feel alive". And he is a man on the run because of the mafia and him owing a major debt of 100,000 dollars. That's the sub plot in this movie Mike and a detective looking for him and that links all the way to the end. Cannibal exploitation as people put it always start of in big cities because they want the viewer to see the differences once they enter the jungle to see man eats man in a world with no rules. Still the intro to this movie is the best ever. The acting is awesome I don't know why everyone says it's bad it's mad, they really know how to act when they start to die, Mike again is like that but he killed a native girl and the exasperations on his face made it seem like he had no guilty condenses. I come to a close but last but not least Umberto Lenzi's direction is just mad he really new how to make an awesome exploitation film.
See Details