The Cars That Ate Paris
(1974)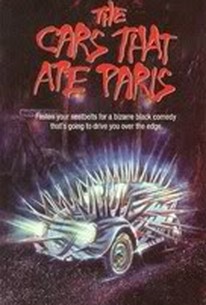 The Cars That Ate Paris Photos
Movie Info
This first effort from acclaimed writer/director Peter Weir is set in the secluded rural town of Paris, Australia, where the chief source of income is provided by the orchestration of automobile accidents -- which frequently claim the lives of passing tourists, though those who survive are usually subjected to bizarre brain experiments by a loony local surgeon. One such unfortunate survivor is young Arthur, who remains in Paris after his recovery to work in the hospital, unaware (at first) of the circumstances which brought him there. Although there are many amusingly weird moments, this black comedy is a bit too deadpan for its own good and may be too talky and meandering for horror fans. A condensed version was released in the U.S. under the title The Cars That Eat People. ~ Cavett Binion, Rovi
Critic Reviews for The Cars That Ate Paris
All Critics (9) | Fresh (5) | Rotten (4) | DVD (3)
At the end of the story the young men rebel against discipline and use the stock cars to attack and destroy many of the wooden buildings in the town. I looked for symbolism here and failed to find it.
Establishes many of the themes that he would revisit later in his career; it especially resembles The Truman Show in many ways.
As a low-budget first film, director Peter Weir could've done worse, but I'm thankful that his career continued in a very different direction than this film would suggest.
March 10, 2004 | Rating: 46/100
Audience Reviews for The Cars That Ate Paris
First off, this is Paris: Australia, not Paris: France. It's a charming little horror debut from Peter Weir that sits somewhere between Clockwork Orange and The Wicker Man. It is dated and would now be worth remaking, but for fans of Weir it's wonderful to see his early work.
Marcus Woolcott
Super Reviewer
I found this movie confusing, slow, boring, and very strange. I wasn't sure if anything was actually going on. I wouldn't recommend seeing this movie.
½
Horror movie genre that involves killing machines specially cars are mostly bad ideas to start with. This is an early film of director Peter Weir (Gallipoli). The plot is very laughable and the special effect is not even up to the standard of the 70's. What made this movie really shine though is the film quality and the music scores. The music in this film really stood out and definitely is worth listening while laughing your way through this cheesy, evil car film.
The Cars That Ate Paris Quotes
There are no approved quotes yet for this movie.