Children of the Damned
(1963)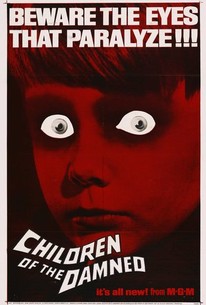 Children of the Damned Photos
Movie Info
This sequel to Village of the Damned finds six children born in places around the world and blessed with high intelligence and laser eyes. Two scientists (Alan Badel, Ian Hendry) bring them together, but quickly begin to fight amongst themselves for possession of the children.
Critic Reviews for Children of the Damned
Audience Reviews for Children of the Damned
Marcus Woolcott
Super Reviewer
This sequel to the superb Village of the Damned is pretty average considering the original Sci Fi horror film is such a chilling, effective and memorable horror film. Using Cold War propaganda, as this was made at height of the Cold War, Children of the Damned fails to establish anything effective in the chill factor. The film is good, not excellent, and considering that this is a sequel to Village of the Damned, it fails in that respect. Instead of an eerie atmosphere, the filmmakers relies more on a poorly constructed moral message in the films plot, and that just doesn't do. The film kind of reminded me of the original Sci Fi film The Day the Earth Stood Still, only this time around the message the film tries to pass along to the viewers is pretty silly, ineffective and it ruins a potentially good sequel. Unfortunately the films "horrifying" moments don't work, not like the first, and as a sequel, it's yet again a film that fails to capture the essence of the original film. A pretty ordinary sequel with nothing that really terrifies the audience. I thought the film had its decent moment, and no it's not a bad film, but considering that the first was so chilling, and cleverly built up to its horrifying conclusion, this film is a let down. The cast on the other hand delivered good performances, which redeemed the film significantly, but it wasn't enough to save this film from being an average sequel. Good idea, but average execution. This is a film that the filmmakers could have taken more time to develop a better plot to.
½
Creepy bugger of a film....loved it.
Barry Lappin
Super Reviewer
Children of the Damned Quotes
There are no approved quotes yet for this movie.