Cry of the Banshee
(1970)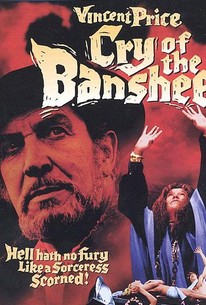 AUDIENCE SCORE
Critic Consensus: No consensus yet.
Movie Info
The inimitable Vincent Price puts an interesting spin on this otherwise pedestrian witch-hunt exercise -- a rehashing of Witchfinder General (aka The Conqueror Worm) and several of Roger Corman's numerous Poe variations from the previous decade. Here Price plays Edward Whitman, a corrupt, sadistic magistrate in 16th-century Ireland who puts a quick and deadly stop to the activities of a local Druidic coven... but not before the sect's leader Oona (Elisabeth Bergner) puts a curse on him and the Whitman family line, calling up a vengeful spirit known as a "sidhee" which takes flesh in the form of an otherwise mild-mannered stable boy (Patrick Mower). As swift and violent retribution works its way through the Whitman family, so does this film snowball toward its bizarre and muddled conclusion -- made all the more confounding by rather choppy editing. Just like Conqueror Worm and half a dozen others, this was fallaciously marketed by distributor American International Pictures as yet another adaptation of the works of Edgar Allan Poe -- as if AIP hadn't kicked Poe's corpse around enough in the '60s.
Critic Reviews for Cry of the Banshee
All Critics (2) | Fresh (0) | Rotten (2)
Lacking the style and the smarts of the similar Witchfinder General, this unpleasant outing merely vacillates between silliness and sadism.
Audience Reviews for Cry of the Banshee
Although this movie is probably considered the retarded cousin of the other Vincent Price witch trial movie The Witchfinder General, it's not too horrible. Well, it kind of is and it isn't. I don't know how accurate Cry of the Banshee is to any of Edgar Allen Poe's work, if at all, but it's not completely terrible. It does have Vincent Price being a completely evil bastard, which he was very good at portraying, a young & pretty Hilary Dwyer, and even a young Stephen Rea. It tries to be both a slasher movie and a revenge movie all in one go, which doesn't really meld that well. It's sort of boring for the most part because Lord Whitman, his sons and his colleagues are such a terrible people that you just don't care. The revenge part could work, but by the time the murders start taking place, the characters do a 180 and I felt poised to sympathize with them. In other words, it's a train wreck, but it's an interesting train wreck (I'll give it that). So all in all, it's not a very good film but it's a good example of what not to do with these particular kinds of story mechanics.
Tim Salmons
Super Reviewer
I often get this one mixed up with witchfinder general, but this one has a better story, I know. Although the story is better, the only good actor is Price, and the others are annoying. It's not that bad, I just didn't like it much.
Cry of the Banshee Quotes
There are no approved quotes yet for this movie.