Dom Hemingway
(2014)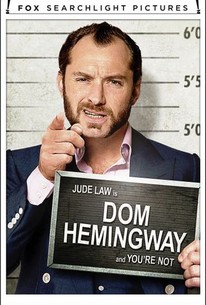 TOMATOMETER
AUDIENCE SCORE
Critic Consensus: Jude Law is clearly having fun in Dom Hemingway's title role, but viewers may find this purposely abrasive gangster dramedy isn't quite as enjoyable from the other side of the screen.
Movie Info
Jude Law plays DOM HEMINGWAY, a larger-than-life safecracker with a loose fuse who is funny, profane, and dangerous. After twelve years in prison, he sets off with his partner in crime Dickie (Richard E. Grant) looking to collect what he's owed for keeping his mouth shut and protecting his boss Mr. Fontaine (Demian Bichir). After a near death experience, Dom tries to re-connect with his estranged daughter (Emilia Clarke), but is soon drawn back into the only world he knows, looking to settle the ultimate debt. (c) Fox Searchlight
People Who Like this movie also like
News & Interviews for Dom Hemingway
Critic Reviews for Dom Hemingway
Audience Reviews for Dom Hemingway
Undeservingly lost in the shuffle, Dome Hemingway is a brash and wildly entertaining dark crime comedy. Jude Law is a sheer force of nature as the title character, a charismatic and garrulous criminal with no shortness of ego or volume. He's just getting out of a 12-year jail sentence and taking stock of his life. His wife is dead, his grown-up daughter (Game of Thrones' Emilia Clarke) hates him for his absence, and his bosses are ready to reward him for his long silence. The only person who could screw things is up is Dom, and he does, as he's prone to impulsive fits, shouting matches, and oversized bravado. This is really a series of comic vignettes and vulgar monologues, but the writing by Richard Shepard (The Matador) is slyly hilarious, leaving me in stitches throughout ("I am not burying your body today! I didn't bring the right shoes for it."). The comic voice here is assured and finely attuned to the broad wavelengths the characters. It's not exactly he colorful, cartoon criminal universe of early Guy Ritchie films, but there's a definitely heightened atmosphere here that blends well with the manic nature of Dom. Law is bouncing off the walls; you may have to wash the spittle off your TV. But he's compelling from his first minute onscreen to his last. The third act squeezes in a degree of emotions though by then we've been enjoying the depravity too much to switch focus. I don't think the work has been put in to make Dom a three-dimensional character, but that won't stop Dom's film from being a blast of entertainment with swagger to spare. Nate's Grade: A-
Nate Zoebl
Super Reviewer
An off-the wall instant classic. Movies don't get more enjoyable than this. One of the best British comedies I have seen in years. Grade A stuff. A stylish, hilarious and utterly original caper loaded with big laughs and surprising amount of heart. A flat-out funny good time that just does not let up. Director, Richard Shepard dazzles us once again with his beautiful style of direction and outrageous off-beat characters. It's sensational fun. Jude Law has never been better, he gives one of the best, boldest, funniest and most brilliant performances of his career. Law explodes his charisma, humor and heart, his character does things so absurd and ridiculous but at that moment you are still just routing for him because he is a loveable character who's dialogue is so gorgeous and refreshingly unique. Richard E. Grant is excellent, he gives a fun and terrific performance. Grant and Law have wicked chemistry together. Emilia Clarke is wonderful. A brash and riveting black comedy that has a great redeeming heart. Its definitely one of the most enjoyable surprises of 2014. A non-stop party of madness, crime, redemption, music and of course great performances from its cast.
½
Jude Law is Dom Hemingway and you're not. Great Film! Really enjoyed it! The lasting impression is the tremendous energy of the script and Jude Law it could really be a stage play in places, it is not often these days that movies create energy through an excellent script, rather than energy by effects, this does. Dom Hemingway avoids squeamish violence in the main and goes for the jugular in its script instead - it even has more than a touch of pathos admid the insanity. All in all, if you like films with some style, real laughs, and energy - and crude craziness - then this fits the bill better than most. After spending 12 years in prison for keeping his mouth shut, notorious safe-cracker Dom Hemingway is back on the streets of London looking to collect what he's owed.
Dom Hemingway Quotes
There are no approved quotes yet for this movie.