Dysfunktional Family
(2003)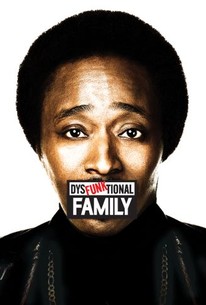 Dysfunktional Family Photos
Movie Info
Comedian Eddie Griffin delivers a set of his outrageous standup comedy and introduces his fans to the family who helped inspire his work in this documentary. In DysFunKtional Family, Griffin talks about race, sex, cats, dogs, slavery, terrorism, Michael Jackson, and several of the more eccentric members of his family during a sold-out live show. In between bits, Griffin takes us on a tour of his home town of Kansas City, where we get to meet his mother, who has a remarkable enthusiasm for corporal punishment; his uncle, who discusses his remarkable enthusiasm for pornography; and another uncle, who proved to be an invaluable help to Griffin's early career despite his drug habit and career as a pimp. DysFunKtional Family was directed by George Gallo, who previously worked with Griffin on the comedy Double Take.
Cast

Critic Reviews for Dysfunktional Family
Audience Reviews for Dysfunktional Family
Dysfunktional Family Quotes
There are no approved quotes yet for this movie.