El Infierno
(2010)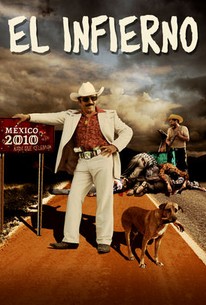 AUDIENCE SCORE
Critic Consensus: No consensus yet.
Movie Info
A Mexican man is deported from the United States and returns to his village, where he gets involved in the drug trade.
Rating:
NC17
Genre:
, ,
Directed By:
Written By:
Runtime:
Studio:
Bandidos Films
Critic Reviews for El Infierno
All Critics (3) | Top Critics (1) | Fresh (3) | Rotten (0)
A master at sustaining his characters' likability even under grotesque circumstances, Estrada maintains an absurdist irony throughout.
While the storytelling in El Narco is quite strong on the surface, what impressed me the most was Estrada's ability to weave social commentary into the film.
The film flips quickly from funny and slow to extreme violence, but in the end it's plenty entertaining.

Audience Reviews for El Infierno
½
The title of the Luis Estrada directed movie El Infierno, which translates to Hell in English is adequately named. If torture and cold-blooded murder make you squeamish, I would suggest watching El Infierno next to a vomit bag. This NC-17 rated movie teaches audiences the true meaning of what Hell on Earth looks and feels like, and then some. Hell being the violent streets of Mexico that have been tainted by the cartel's omnipresence, and the pools of blood and tears left in their wake. The movie's protagonist Benny (Damian Alcazar), later known as 'El Benny', is the one the audience follows closest. His figurative walk on the smoldering coals that pave the arduous road of this film from beginning to end, create a sympathizing avenue for this dismal tale. Benny, is a likable, hardworking Mexican male that is faced with delving into the criminal underbelly of Mexico. El Infierno begins taking shape early on in the flick as Benny returns from his 20-year absence that found him in the U.S. and away from his hometown and reintroduced back to Mexico. Upon Benny's return life has changed, and his hometown quickly turns to Hell on Earth. The plot takes shape shortly after he learns of the untimely murder of his younger brother El Diablo, once a flashy and violent member of the cartel. As El Benny earns a means to survive after he gains his criminal footing by mixing with the wrong people. With his morals fleeting, a lesson is learned by character and audience alike; fast woman, drugs, violence, and loads of cash weigh on the soul and do not come without effecting conscience. The default tone throughout this Hellish film is bleak to say the least, with Luis Estrada capturing the bloody details of this Mexican crime film with cinematic excellence. The characters in this movie have an identifiable human quality (most notably Benny) all with the same mindset; preservation for themselves and their loved ones justifies their compromise of evil. Life in El Infierno is anything but nice with those most fit to survive possessing a level of savagery that separates them from anything human. The violence in this movie matches the unquestionably harsh environment that these character's live in (Hell) and the audience is reminded about just how vicious these criminals can be, even if coming off likeable from time-to-time. All-in-all this film produced by Bandido films and directed and written by Luis Estrada, is as good as a cartel/crime movie as they come. There was no official Rotten Tomatoes rating for me to compare this movie to, but I will say that if it were given a rating by the critic aggregation site it would have been in the 90's. My final verdict on this film is that is should receive a rating no lower than a 92%.
Solomon Osayande Jr.
½
Raw, brutal and incessantly violent. Plus, it has a compelling story to boot. Why didn't I see this sooner?
Ed Bookman
What do you get when GoodFellas has drunken sex with Quentin Tarantino while on a trip in Mexico? You get this movie. Though this film certainly feels more like a Mexican version of GoodFellas with Benny being forced into a situation where he has to work for the cartel to make money and the things he sees and does while part of this gang that's in the middle of a war. The film is certainly violent and pretty foul-mouthed, but I certainly don't get the NC-17 rating, perhaps the film is too lurid for some, but I've seen far more violent films that weren't NC-17. Perhaps the director was unwilling to compromise on editing certain parts of the film to secure an R-rating. If so, I applaud the man for sticking to his guns and refusing to compromise what he created. Anyway, this is the type of film you'll have to see so you can formulate your own opinion of it, if I were to get in depth on this movie, we would be here for a very long time but I, and most of you, don't want that so I'll try to keep it short. I thought the film was excellent. It was considerably long and it took me a while to get through, what with bathroom breaks and checking emails and texts, it probably took me 4 hours to get through this movie. And you know what, not once did I ever feel the movie was too long. I mean it probably was, but it doesn't feel like it at all. And since I was so invested in the story and the character of Benny, I wanted to see where his story ended up. If there was a problem with the film is that it definitely can feel sort of aimless and you're not sure where it wants to go, but those moments are definitely in the minority. I thought the acting was strong, with the highlight being Joaquin Cosio as Cochiloco. The guy just has incredible presence and can pull off the "bad" guy role in his sleep, but he can also be a very friendly, albeit scary, man as he is in this movie even if he isn't the boss. Damian Alcazar is also very good as Benny because he just has a naivete about him that makes him a sympathetic character even as he's doing these terrible things, or helping the people who are doing these things. I also liked that the movie doesn't romanticize the whole cartel stuff. The movie does show the more "glamorous" side, and I say it like that because the setting is anything but, and the incredibly dangerous side to being in a drug gang. You can never go out without having to worry that someone in a rival gang might be looking to take you out. There's also a bit of social commentary on the state of Mexico economy and how people, when backed into a corner where they HAVE to do whatever it takes to earn some money, end up going down that path and end up becoming dangerous drug dealers. The film is certainly gritty as far as visuals go. You're not gonna see the bright lights of Los Angeles like in Casino. This film gets down in the dirt, and I think it adds a lot to the film as well. Let's see, the writing is top-notch and the climax was excellent and bloody. So I certainly can't complain about this film at all. Does it portray Mexicans in a negative light, perhaps. But these stories should be told because if they help to bring these issues to the forefront of the Mexican government, then that can't be a bad thing at all. Anyway, this is a tremendous movie and it's definitely going to be one of those gems that most people don't even know exist, which is a damn shame.
Jesse Ortega
Super Reviewer
El Infierno Quotes
There are no approved quotes yet for this movie.