Entre Nous (Coup de Foudre)
(1983)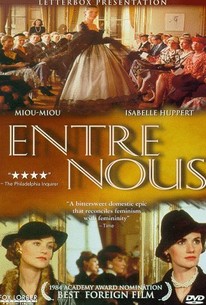 Movie Info
French filmmaker Diane Kurys directs the period drama Coup de Foudre (distributed in the U.S. as Entre Nous), adapted from a book she co-wrote with Olivier Cohen. The semi-autobiographical story is based on the life of the director's mother. Lena (Isabelle Huppert) is a Jewish refugee from Belgium living in occupied France during WWII. In order to avoid being sent to a German concentration camp, she agrees to marry the discharged military officer Michel (Guy Marchand). He tries to provide a decent life for her by running an auto repair business. They have two children together, but Lena is unhappy and stifled by her domestic life. Michel doesn't offer her the sensitivity and affection that she requires. Meanwhile, in Paris, the extroverted artist Madeleine (Miou-Miou) mourns the accidental death of her husband. After the liberation of France, she marries actor Costa (Jean-Pierre Bacri) and has children of her own. In 1952, Lena and Madeleine meet by chance in Lyons. The two women develop an emotional relationship that borders on romantic involvement. Their bond is only strengthened by a mutual dissatisfaction with their husbands, children, and home life in general. Entre Nous was nominated for the Best Foreign Film Oscar in 1983. ~ Andrea LeVasseur, Rovi
Rating:
PG
Genre:
,
Directed By:
In Theaters:
On DVD:
Runtime:
Studio:
Alexandre Films
Critic Reviews for Entre Nous (Coup de Foudre)
All Critics (6) | Fresh (6) | Rotten (0)
In 1983, we debated: Is the film feminist? Are the women lesbians? All relevant questions. But the movie is so well-acted by Miou-Miou and Isabelle Huppert, so moving, and so personal, it's a highlight of 80s French cinema.


Spirituality and Practice
Audience Reviews for Entre Nous (Coup de Foudre)
Talky. Thought-provoking. Credible performances evoke sympathy for the people concerned. Originally entitled Coup de Foudre, (lightning strike - a French idiom for Love at First Sight). Up close and personal the film explores the breakup of two marriages. Why this should have to happen in this way can be attributed to any number of reasons or a combination thereof as presented in the film. Ultimately it is left up to the viewer to decide. The story is said to be autobiographical of director Diane Kurys, who also collaborated on the screenplay for this movie. A young Belgian Jewish woman named Lena, displaced by the Nazi invasion in 1940 war-torn Europe, ends up in a French refugee camp where she catches the eye of one of the guards who says that he wants to marry her. Lena accepts the man's proposal, if only to get out of incarceration before the advancing Germans take over the area and deport the camp's occupants out of the country to certain death. As the two are about to take their vows, however, Lena learns that her husband to be, Michel, is also Jewish, putting her in grave danger, but it's too late now to change her mind. The newlyweds decide to travel south to Italy where they manage to survive the rest of the war hiding out. As the result of this shared experience their feelings for one another appear to deepen over time. In the 1950s we see the happy couple comfortably ensconced in Lyons, France, with their two young daughters, where Michel owns a garage and makes a good living for his family servicing vehicles. It is not glamorous work, the hours are long, but it is steady income and enough money for Lena to go around in nice clothes, furs, fine jewelry, take expensive vacations, and have a live-in helper to do the housework, cooking, and child care as needed. At the local grammar school's Christmas Pageant, Lena meets Madeleine, a sculptress whose young son is also a student there in the lower grades. The two women like one another almost immediately, and quickly become drawn into each other's lives. As their relationship deepens, however, their marriages run into more and more serious trouble eventually culminating in divorce for both women. Was this fate, or a coincidence or something else entirely?
Ann Lorraine
A tough subject dealt with subtley and smoothly. Fine performances all around create a powerful atmosphere and story. B+:fresh:
Travis Hardy
Entre Nous (Coup de Foudre) Quotes
There are no approved quotes yet for this movie.
Discussion Forum
Discuss Entre Nous (Coup de Foudre) on our Movie forum!