The Evening Star
(1996)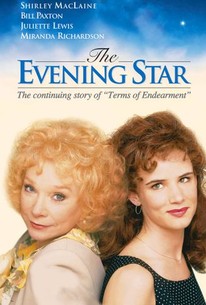 Movie Info
This sequel to Terms of Endearment begins fifteen years after the first story and centers on the colorful and domineering Aurora (Shirley MacLaine) and her relationship with her three grown grandchildren, her maid Rosie, and assorted friends and lovers -- including a young psychiatrist with whom she has a brief fling.
Critic Reviews for The Evening Star
Audience Reviews for The Evening Star
Shirley MacLaine should have won another Oscar for this sequel also! I have no idea why it didn't make even the budget at the Box Office. It was a Christmas movie of 1996. It had to have been bad timing. This gem of a film is so tucked away that I never knew it existed until Netflix came along! Now I bought the DVD and buy the merchandise of the movie on Ebay. This script and the actors are perfection! This is my favorite movie. I don't watch Terms of Endearment like I watch this one. Such a GREAT movie! BRAVO!
David Eaton
This sequel to Terms of Endearment is almost as endearing as the original. Although it didn't need a sequel, it is realistic to see that the characters didn't live happily ever after when the movie ended. And to see what other problems they deal with. I liked this movie, it was a good drama with good actors and it's a very realistic drama.
One of my all-time favorites.
Discussion Forum
Discuss The Evening Star on our Movie forum!