Godzilla: Tokyo S.O.S.
(2004)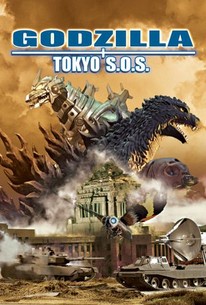 AUDIENCE SCORE
Critic Consensus: No consensus yet.
Godzilla: Tokyo S.O.S. Photos
Movie Info
Fifty years after he first attacked Tokyo, Godzilla is back on the rampage in this monster opus from Toho Studios. After numerous rounds of combat with Japan's most furious monsters, the robotic beast Mechagodzilla is in for some much needed repairs when a handful of sprites appear before the scientists putting the machine back in fighting shape. The enchanted ones warn the scientists that their actions could have grave consequences, but it isn't long before Godzilla, the most fearsome of all monsters, returns to the scene to prove his might once and for all. What's more, Godzilla is joined by Mothra for a reign of terror that threatens to devastate the island. With few alternatives, Japan's leaders pit the repaired Mechagodzilla against Godzilla and Mothra, but it quickly becomes unclear if the robot will obey its human creators or join forces with the flesh-and-blood monsters. ~ Mark Deming, Rovi
Critic Reviews for Godzilla: Tokyo S.O.S.
All Critics (2) | Fresh (2) | Rotten (0) | DVD (2)
A dumb, empty popcorn movie that delivers on all of its promises, while boasting the best computer-generated effects of any Godzilla movie made up to that point.
This modern series is one that's improving with each entry, and all of them are big ol' heaps of rubber suit glee.
Audience Reviews for Godzilla: Tokyo S.O.S.
This is a definitive battle of the giants and is brilliantly done with flair and it holds something truly exciting g in terms of action and thrills which is designed to truly entertain even the most demanding Godzilla fan. With great action and a good plot, this is yet another stunning work in the series that has been truly exciting since its confident reboot in 1985. Although like every other films in the series, it is not perfect, but action more than makes up for the lack of weak points and it most certainly gives Fans what they truly want. Well directed, with a rich script and story, this is a monster film that is truly one of a kind, even by this series standards. Tokyo S.O.S delivers from start to finish and it is a refreshing film that is very good in terms of delivering good action. The series started out as a horror series, but each entry, it added action and Sci Fi elements that completely redefined the series and reinvented the rules of what a monster film should be. The original 1954 classic will always remain a horror classic in my mind, but has a few horror elements, but dwells more on action to tell its story. Be prepared for the ultimate in monster action and one of the finest entries that delivers something truly special for fans looking for unique Godzilla chaos that has graced the screen for half a century. A well plotted movie that won't disappoint.
Oh, the horror. I love the idea of Godzilla fighting a bio-mechanical version of himself, but the "human element" is so unbearable, and the fight scenes are so over the top and embarrassing, that I found myself watching the counter (counting down how many minutes were left) of this horrid film.
Bryan Davis
Super Reviewer
The big guy is only a force of nature here, a catastrophe that draws everyone together to fight it. Along the way are thinly veiled bits that tie protection of family with Japanese history, Japanese religion and Japanese pride, howbeit in a nice kid-friendly way. There's a moral woven in the mix, too, about the love of technology maybe not being such a good thing. Finally, an inoffensive embrace of the old Godzilla movies with a nod to the future.
Kevin M. Williams
Super Reviewer
Godzilla: Tokyo S.O.S. Quotes
There are no approved quotes yet for this movie.