Hanyo (The Housemaid)
(1960)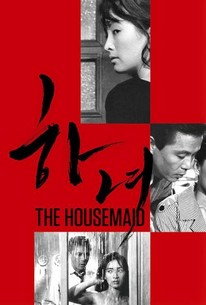 AUDIENCE SCORE
Critic Consensus: No consensus yet.
Hanyo (The Housemaid) Photos
Movie Info
Kim Ki-Young directed this suspenseful and disturbing tale of obsession and guilt. Dong-sik (Kim Jin-kyu) is a music teacher whose wife (Ju Jeung-ryu) is expecting a baby. The couple already has two children, and Dong-sik is having trouble covering the bills now that they've moved into a bigger house at his wife's insistence. Hoping to make things easier for his spouse, Dong-sik hires a young woman (Lee Eun-shim) to help with the household chores. However, the new housekeeper has a secret -- she was a close friend of a woman who lost her job and then her life as a result of Dong-sik's betrayal of a confidence. Soon the new housekeeper is using her sensual wiles to lure Dong-sik into infidelity and wrecking her revenge against him and his loved ones. Hanyo (aka The Housemaid) was a major box-office success in Korea upon its first release, but later fell out of circulation in the 1970s; the film was restored with the help of the Korean Film Archive and the new print made its U.S. debut at the American Film Institute's 2010 AFI Fest.
Critic Reviews for Hanyo (The Housemaid)
Audience Reviews for Hanyo (The Housemaid)
½
A stunning thriller! From the credits sequence on, Hanyo (The Housemaid) weaves a crazy web of lies and treachery. Not unlike the web the children are weaving during those credits. Humor is perfectly injected into the movie and makes this a must see! A fantastic ending as well! Watch for Korea to remake one of their classics in 2010!
James Bond, Jr.
Super Reviewer
Hanyo is a thriller crafted with the greatest expertise. You know where it's going, but you can't help but stared, open mouthed, at the journey it takes. Mr. Kim is the unluckiest lucky man in the world. He has women throwing themselves at him non-stop. Unfortunately, they are all a tad bonkers and also pretty dangerous. Leading the pack is his Housemaid, a little temptress with a good eye on how to eliminate a rat. The imagery is all very metaphorical, but hits such high levels of obviousness that it is also comically charming. It's rather tense, and also upsettingly painful to watch. In true thriller fashion, it builds to an over-the-top climax, but before you dismiss this as wild fantasy, you have to wait for one of the greatest cinematic punchlines of all time.
Luke Baldock
Super Reviewer
Hanyo (The Housemaid) Quotes
There are no approved quotes yet for this movie.