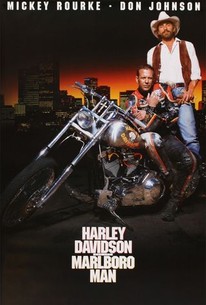 Harley Davidson and the Marlboro Man
1991, Action, 1h 38m
20 Reviews
10,000+ Ratings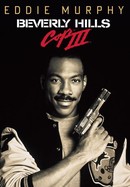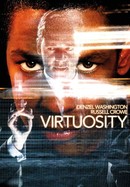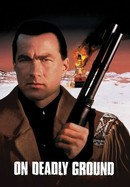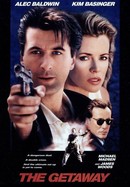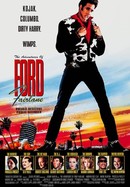 The Adventures of Ford Fairlane
Where to watch
Rent/buy
Rent/buy
Rent/buy
Rate And Review
Harley Davidson and the Marlboro Man Videos
Harley Davidson and the Marlboro Man Photos
Movie Info
In this action movie, tough biker Harley Davidson (Mickey Rourke) teams up with his cowboy-hat-wearing buddy known as the Marlboro Man (Don Johnson) to help save the bar of a mutual friend. Enacting a plan to rob an armored bank vehicle, the two are surprised to find that they've heisted a massive shipment of a new drug. Soon the corrupt bank head, Chance Wilder (Tom Sizemore), sends trained killers to take out Harley and Marlboro, with the duo fighting for their lives.
Rating: R

Genre: Action

Original Language: English

Director: Simon Wincer

Producer: Jere Henshaw

Writer: Don Michael Paul

Release Date (Theaters): original

Release Date (Streaming):

Box Office (Gross USA): $7.0M

Runtime:

Sound Mix: Surround
Audience Reviews for Harley Davidson and the Marlboro Man
"Don't Yank It, It's Not Your Dick!" This line from Marlboro (Don Johnson) delivered to Harley (Mickey Rourke) pretty much tells you what you need to know in order to appreciate this movie. I love it; it's a buddy action flick about a family-type group's attempt to get even and get a little justice for the little guy. It's not even remotely base in reality, and the plot and action are juvenile, but this is testosterone-based escapism at its finest. This fine film plays like a goofier version of Heat or some other heist/caper drama that takes itself too seriously. The title alone should tell you that director Simon Wincer uses the two iconic stereotypes to set a loose, playful mood. Come on; admit it, the title made you curious enough to watch this. I love the cast: pre-surgery Rourke, Johnson's probably the best actor, Tom Sizemore-the evil banker and his unusual henchmen led by Daniel Baldwin, Vanessa Williams and Tia Carrere are eye-candy, while Chelsea Field is pretty and talented. The rest, Big John Studd included, fill out a raucous cast. Harley-Marlboro was a box office disappointment, making only $7 million on a $23 million budget, but don't let that deter you from the fun of watching it. There are too many attempts at sub-plots and backstories; watch this for the "we're in this together" camaraderie. Don't look for some higher purpose or anything artsy or Oscar=worthy. It's pure cheesy fun.

"It's better to be dead and cool, than alive and uncool." Who uses the word dilettante, anyways? That's basically the only thing that I can remember about this movie. I saw this film on cable after a long long time. I had some memories of it but I guess I've grown because what I thought was fun and all turned out to be pretty goddamn lame. The story is about two guys, Harley Davidson and Marlboro. Yep, one rides a Harley and the other smokes Marlboro's. Two plain old losers who haven't accomplished anything in their lives. Basically it's a story about friendship and determination... for dumb people. I couldn't but laugh when the so called action started. It consists of people just shooting a lot of bullets. I think their shot percentage is about 2 percent? Everytime when there was some kind of action, I thought for myself that I could do these scenes, even though I have zero training for making movies. But there was still something that I liked about the movie and it was the duo of Mickey Rourke and Don Johnson. They're not giving career best performances here but it was kinda nice to see 'em two making a movie together. 'Harley Davidson and the Marlboro Man' looks and feels as a TV movie. There's nothing spectacular in it, only some occasional witty dialogue and proof of that the younger Baldwin brothers can't act for shit. Ain't gonna watch it for a third time, for sure.

Well the big bold statement at the start finishes off any ideas that this is related to a certain famous bike and cig brand haha dunno how they could use the name when its so close to the real thing but hey. The film is pretty dire really and I was surprised, yes I've only just seen it, it starts off pretty decent with Rourke on his bike looking good and kicking ass, ditto Johnson looks good in his cowboy gear n stubble and they both go around seeing sexy women in seedy clubs and generally winning fights. At a certain point it starts to get really dumb, the bad guys all turn up looking ridiculous in their 'pre-Matrix' leather coats and shades and there is allot of over the top gun fights and killing when it could of been a decent comedy action, drops into trash I'm afraid. Rourke never changes his clothes and nobody can shoot for shit haha plus it gets way to predictable towards the end.

In my opinion you can't say enough good things about this film. Don Johnson and Mickey Roark are all over it turning in the best and second best performances of their lives respectively. At the height of it's genre this buddy-action-adventure-romance-caper-distopian future-comedy is an edge of your seat laugh a minute thrill ride with a heart of gold and duct taped boots.
See Details