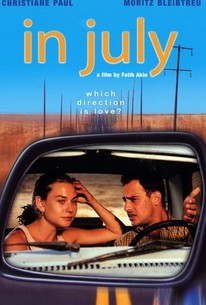 In July
2000, Romance/Comedy, 1h 39m
27 Reviews
5,000+ Ratings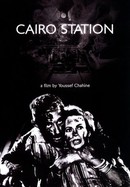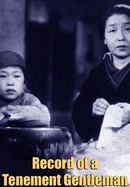 Record of a Tenement Gentleman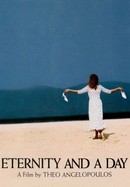 Rate And Review
Movie Info
While a shy teacher (Moritz Bleibtreu) travels to meet the woman he loves, he picks up a hitchhiker (Christiane Paul) who has feelings for him.
Audience Reviews for In July
[font=Century Gothic]"In July" starts out with Daniel(Moritz Bleibtreu) having a good deal of trouble getting a ride out of a man in the middle of nowhere.(The driver has a body in his trunk by the way.) Once he has secured the ride, Daniel relates how he got to this point:[/font] [font=Century Gothic][/font] [font=Century Gothic]Daniel is a straight and narrow teacher in Hamburg(so much so that he teaches a regular lesson right before summer vacation begins). A free spirit, July(Christiane Paul), has a crush on him and sells him a ring with the sun on it and convinces him that his true love is tied to the sun. She informs him of a block party that is happening that night. Daniel does not run into July at the party, but instead Melek(Idel Uner), an attractive young woman originally from Turkey. Daniel and Melek spend a chaste night together before Melek has to return to Turkey. Before she does, she mentions where she will be in Istanbul several days hence. July, given up all hope, seeks a fresh start anywhere else. By chance, she is picked up by Daniel on his way to Istanbul to hopefully meet up with Melek. [/font] [font=Century Gothic][/font] [font=Century Gothic]Got that?[/font] [font=Century Gothic][/font] [font=Century Gothic]"In July" is a movie about how people affect each other and can change their direction in life. The movie is familiar and based on a good deal of coincedence but is very charmingly done with likeable leads. [/font]

Im July was the 3rd movie I saw from this Turkish German director,Fatih Akin. I must say the two other ones was bit depressing but Im July was fresh, funny and had some really delightful moments..The story was believable. Girl saw boy, boy saw girl, the girl had feelings for the boy, but the boy played hardball. So the girl looked for a way to show her love for him. Their whole journey through so many different countries and passing beside so many different people and cultures was really interesting.It was charming, with some fun twists, a great soundtrack, and terrific supporting characters. Made you forget some cliche and predictable moments.

If only things were that simple in real life.

A travel that'll change anyone's lives. Very cute and touching.
See Details