Inbred
(2011)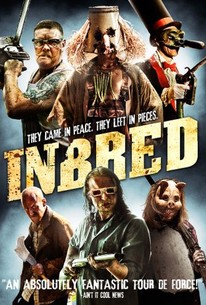 Movie Info
A disparate group of young urban offenders and their care workers embark on a community service weekend in the strange, remote Yorkshire village of Mortlake, which prides on keeping itself to itself. A minor incident with some local inbred youths rapidly escalates into a blood-soaked, deliriously warped nightmare for all involved. This is a demented horror film with nowt taken out.
Critic Reviews for Inbred
Audience Reviews for Inbred
½
A gorier, less entertaining version of Royston Vasey.
vieras esine
Super Reviewer
Severence meets The Hills Have Eyes in this extremely gory and very un-politically correct horror film concerning a group of troubled teens and their two counsellors who take a trip into a hick village somewhere in Yorkshire to do some vague maintenance/community projects, and find themselves in a community of very odd looking and strangely behaved people, who inevitably turn violent. As with something like the Final Destination films, the dubious pleasure of this film is in the variously gross/ingenious/stupid deaths (which here include sexual assault by vegetable and death-by-proxy of a ferret). The pastiche aspects are less successful although there occasionally some funny lines (which tend to be prior to the bloodshed), but it's the gore-effects that mark the film out.
Daniel Parsons
Super Reviewer
Inbred Quotes
There are no approved quotes yet for this movie.